How do I Become a Defense Trial Lawyer?
Th requirements to become a defense trial lawyer will vary by country. In the United States, you must first obtain a bachelor's degree and then a Juris Doctorate degree. A trial lawyer must then become licensed in the state where he or she wishes to practice law. Once licensed, a trial lawyer should then gain experience as a civil litigator representing defendants.
A defense trial lawyer represents defendants throughout the civil litigation process. A civil litigation case begins when the plaintiff files a complaint alleging some wrongdoing by the defendant. Common examples include a personal injury lawsuit, a debt collection lawsuit, or breach of contract dispute. Defense trial lawyers are attorneys who specialize in civil litigation cases that are likely to result in a trial.
In the United States, the first step that must be taken to become a defense trial lawyer is to complete undergraduate school and receive a bachelor's degree. Contrary to popular belief, there is no "pre-law" major; an undergraduate student may choose any major he or she wishes. Popular undergraduate majors for law school applicants include English, political science, philosophy, and business.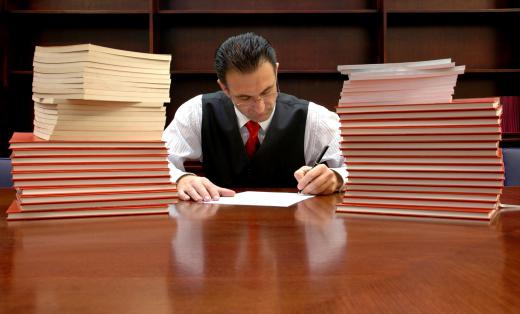 After completing undergraduate school, the next step necessary to become a defense trial lawyer is law school. In the United States, law school is traditionally a three-year program culminating in a Juris Doctorate degree. During law school, anyone wishing to focus on defense trial work should take advanced trial practice as well as participate in Moot Court if possible. In addition, a law student should seek out internship opportunities that offer practical experience in a trial court setting such as with the local prosecutor's office.
Once all the educational requirements have been met, you must become licensed to practice law in order to become a defense trial lawyer. Each state determines its own licensing requirements and procedures, but all candidates must pass the bar examination as well as the multi-state professional responsibility examination. A character and fitness interview or background check is generally required as well.
Once licensed, a lawyer is ready to become a defense trial lawyer. Practical experience can be gained by seeking employment with local or state offices or private firms that handle a large volume of trial work. Again, the local prosecutor or public defender's office may be a good starting point. Although those cases will be criminal in nature, a beginning lawyer can gain a tremendous amount of actual trial experience in a short amount of time, which can later be translated to civil defense work.
AS FEATURED ON:
AS FEATURED ON:






By: Gina Sanders

A defense trial lawyer may work on a personal injury lawsuit case.

By: Corgarashu

Most states require lawyers to have completed a degree in professional law from an accredited university, in addition to passing the bar or licensing exam, to practice.