How Do I Become a Senior System Administrator?
Several employers might require academic training, technical work experience, and management skills to become a senior system administrator. First, you may need to complete educational training in information technology or a related degree. Alternatively, you could enroll in a certification program for advanced training in computer systems administration. Most senior system administrator positions require years of work experience in subordinate and leadership roles. Since you might supervise other IT staff, having leadership and management skills are usually required by most employers.
Typically, senior system administrators are responsible for overseeing the computer network processes of a company. To perform related tasks successfully, you might need to follow several key qualifications to become a senior system administrator. Generally, employers look at your educational training, work experience, and skill set.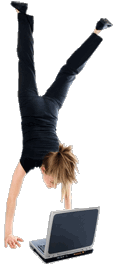 Receiving the proper educational training may require obtaining one or more degrees. An undergraduate degree in server management of computer systems can provide the basic educational background for this position. Advanced educational training in computing science could substitute work experience to become a senior system administrator.
Additionally, a certification specialization such as infrastructure management is also viewed as valuable educational training by most employers. You could also receive certification of various types of servers to become a senior system administrator. With a certification, you demonstrate advanced competencies in the configuration and maintenance of computer network systems.
Whether you complete advanced training or a certification program, you will gain knowledge on how computer systems function. Most employers expect you to have knowledge about operating systems, programming language, and troubleshooting network issues. Many also want you to have technical knowledge about computer software and hardware applications.
In addition to the educational training, employers may consider your previous work experience in the field. Some employers prefer at least five years of work experience to qualify for a senior system administrator position. Working as a system administrator is one way to gain valuable experience and could lead to a senior level promotion.
Through educational training and work experience, you could acquire valuable skills in business practices typically related to the system administration environment. This type of knowledge could increase your understanding of the impact of expected computer system performance. Knowledge of business processes in the industry where you are employed — or seek employment — could advance your opportunities.
Having knowledge of supervisory and leadership skills are often another expectation of employers to become a senior system administrator. Usually, you will manage the workflow of subordinates responsible for technical aspects of server management. In some instances, you might need to delegate responsibilities such as identifying and fixing a system problem. As a leader, you might provide guidance and technical expertise to subordinates as needed to resolve problems.
AS FEATURED ON:
AS FEATURED ON:






Woman doing a handstand with a computer