How do I Become a Pediatric Ophthalmologist?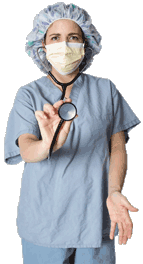 Different jurisdictions have unique laws when it comes to the requirements for a career to become a pediatric ophthalmologist. Often, however, they have some basics in common, including the completion of medical school followed by specialized training in pediatric ophthalmology. To become a pediatric ophthalmologist, you will likely have to commit to at least 13 years of education and training after high school. This usually includes four years of college, four years of medical school, at least three or four years of hands-on training called a residency, and a year or two of specialty training called a fellowship.
After completing high school or earning a general educational development (GED) diploma, you will have to enroll in college to become a pediatric ophthalmologist. In college, you may choose a pre-medicine major to prepare for this career or you may opt to earn a bachelor's degree in a science major such as biology, microbiology, or chemistry. These majors can provide a good foundation of knowledge on which you can build in medical school. You are not restricted to science majors, however, as most medical schools accept students who have pursued nearly any major.
To gain admission to medical school, a high grade point average is usually critical. Medical schools, however, typically consider a range of other factors as well. For example, medical school admissions staff may also consider any extracurricular activities in which you have participated and letters of recommendation from college professors and other individuals who've enjoyed an opportunity to get to know and work with you. The results of pre-admission testing and personal interviews may also help admissions officers decide whether or not you will make a good addition to their student body.
Medical school usually requires a four-year commitment. During this time, you will typically take classes and do lab work intended to prepare you for a medical career. The last two years of medical school are usually focused on clinical practice, however, in an effort to prepare you for diagnosing and treating patients without supervision once you become a pediatric ophthalmologist.
After you complete medical school, you will still have a few steps to take to become a pediatric ophthalmologist. In most cases, an ophthalmology residency, which usually requires a three- to four-year commitment, is required for becoming an ophthalmologist. You will also have to take a licensing exam, often after your first year of residency, to become a doctor in most jurisdictions. Additionally, you may be required to complete a fellowship to gain special training helpful in treating pediatric ophthalmology patients.


Doctor