How Do I Become a Molecular Geneticist? (with pictures)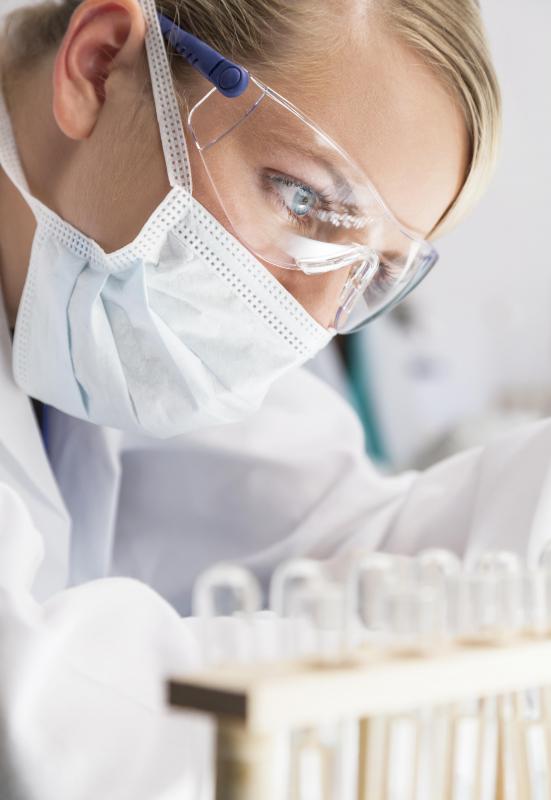 To become a molecular geneticist, it will be necessary to go to school for an advanced degree and to pursue training in laboratory environments through internships and research opportunities. The level of education a scientist needs to work as a molecular geneticist will depend on the type of work. A lab technician may simply need a bachelor's degree in the subject, while a researcher or educator needs a PhD as a general rule. Careers in molecular genetics are highly variable and include working with universities, private companies, government agencies, and nonprofit research organizations.
A high school student who knows she wants to become a molecular geneticist should take as many math and science classes as possible. If electives in topics like genetics are available, she should take them, to get a head start on her college education. It may also be possible to cover some of the general education prerequisites before attending college to make more room on the schedule for molecular genetics classes and electives of interest.
For a bachelor's degree in molecular genetics, students will need to satisfy the degree requirements, which sometimes include a research project. It can be helpful to seek out research opportunities, even if this is not required. Students who intend to pursue graduate work should plan on maintaining an excellent grade point average. It is also possible to receive technical training to become a molecular geneticist with a bachelor's degree and additional certifications to work in labs and as a research assistant. Students should also look into internships and other opportunities to work in molecular genetics facilities, as these will be useful experiences to note on a graduate school application.
Prospective graduate students can tour universities to learn more about their offerings. It can help to meet with personnel to discuss research ideas, as the student should have plans for a research topic and needs to find an institution that will provide adequate facilities and support. In graduate school, a person in training to become a molecular geneticist will have a chance to conduct research, author or coauthor papers, and engage in other activities to further his education and career.
After graduate school it is possible to perform post-doctorate research, which will be necessary for molecular geneticists who want to stay in research or teach at the university level. Someone who has become a molecular geneticist to work in private industry can start applying for jobs out of graduate school. The more research credits she has, the more appealing she may be as a potential applicant. It can also help to join a professional organization to keep in touch with colleagues, learn about new research, and earn certifications that may increase a geneticist's qualifications.
Many molecular geneticists work in laboratory settings.

Some molecular geneticists work at non-profit research organizations.