How do I Become a Microsoft® Certified Professional?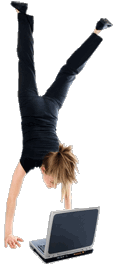 In order to become a Microsoft® Certified Professional, you will need to pass an exam in the area you want to be certified. Certifications are offered in several categories and each category has several certifications. Areas where you can become a Microsoft® Certified Professional include sever technology, security, Office, Windows, Dynamics, Developer Tools and Applications, and Licensing Solutions. These certifications could lead to increased job prospects and salary increases for information technology (IT) professionals.
Training to become a Microsoft® Certified Professional is not generally required. Instead, Microsoft® recommends that individuals have hands-on experience with the product for which they are certifying. In order to prepare for an exam to become a Microsoft® Certified Professional, you can go to a local training center, take an online class, or purchase an exam study guide from Microsoft®. If a candidate, however, does not have hands-on experience, it can be difficult to pass the exam regardless of the amount of study time. The exam covers real-life application questions that typically will not be covered in a class or in a study guide.
Exams are taken through the testing company Prometric™. The cost is typically $125 US Dollars (USD), and there are various testing centers throughout the world. The Microsoft® Certified Professional exams are available in numerous languages. If English is the only option for a certain location, however, then you can request an extra 30 minutes to complete the exam. Generally, this must be requested when you register.
The Microsoft® Certified Master program is the only certification that has additional requirements. This is an advanced certification that generally requires passing at least two exams in the discipline a person wants to be certified in. You could become a Microsoft® Certified Master in several areas: Microsoft® Exchange Server 2000, Microsoft® SQL Server 800, Windows Server 2008, Microsoft® Office Communications, and Microsoft® Office SharePoint Server.
On the day of the exam, photo identification (ID) is required. This is the only item allowed into the testing room. All other personal items are required to be left in the car or in a locker if the testing center provides one.
Exam results generally are available immediately after taking the exam. Retakes usually are available for an additional fee. If a Microsoft® Certified Professional candidate is caught cheating, violating the non-disclosure agreement, or falsifying identity or score reports, then he or she will not be eligible to take any additional Microsoft® certification exams. Once Microsoft® officially receives and verifies the scores, a certification usually is awarded.


Woman doing a handstand with a computer