How do I Become a Medical Transcriptionist?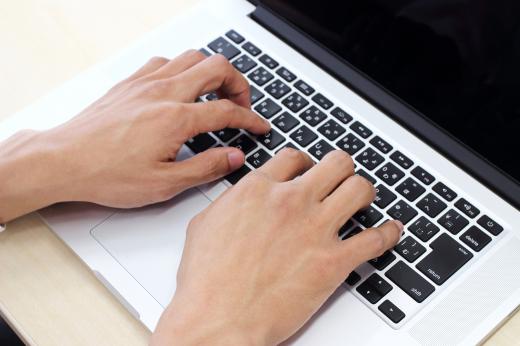 Medical transcription is an administrative job in the field of healthcare, and like many areas of healthcare, is experiencing a growth in demand. A medical transcriptionist, sometimes referred to as an MT, transcribes audio of a doctor's spoken reports to written records. To become a medical transcriptionist training and certification are required before employment. Once you have received training and achieved certification, you can seek employment in doctor's offices, hospitals, or from companies who contract transcriptionists to hospitals and private medical practices.
To become a medical transcriptionist, you must attend a school that offers courses in medical transcription and that prepare you take the certification exam. Numerous community colleges and universities with allied health programs offer this area of study. Course material will include a surprisingly large list of books and should be following and teaching a style approved by the American Medical Association, or similarly geographically respected organization.
Certain skills, including the ability to type quickly and accurately, should be in place before deciding to become a medical transcriptionist. Those with poor listening and typing skills may find medical transcription a difficult task and poor career choice even with training.
Upon enrolling in a medical transcription course, you will begin learning medical terminology and building a basic understanding of specific suffixes, prefixes, and root words that apply to the language of medicine. Medical terminology is a large part of the curriculum that prepares students to become a medical transcriptionist. You will also learn pharmaceutical terms and the diction of specific drugs, medical conditions, diagnostic tests, and other medical terms.
Other areas of study will focus on quickly deciphering a doctor's audio recordings verbatim and learning to use software and transcription equipment. Written style, spelling, and other forms of accuracy as they apply specifically to preparing a medical record will also be covered. In addition, students studying to become a medical transcription will study the laws of the Health Information Privacy Act (HIPA).
Upon successful completion of a medical transcription course, students are issued a certificate of completion, but must proceed on their own to take a proctored exam for certification. When choosing a school, be sure to select one that offers exam preparation as well as job placement assistance, as the field of medical transcription can be very competitive and new hires with no clinical experience can have difficulty landing job offers.
In most cases, training to become a medical transcriptionist takes no more than two years and depends on the school's syllabus and schedule. Upon completion of a credible course and successful certification, many medical transcriptionists find they have prepared for a flexible, secure and rewarding career. However, many people have elected to study less than credible courses, especially those offering a self-paced mail correspondence course, and find themselves without the credentials to become employed, so use caution when choosing your source of education.


By: taa22

A transcriptionist typing on a laptop.