How Do I Become a Mechanic Apprentice?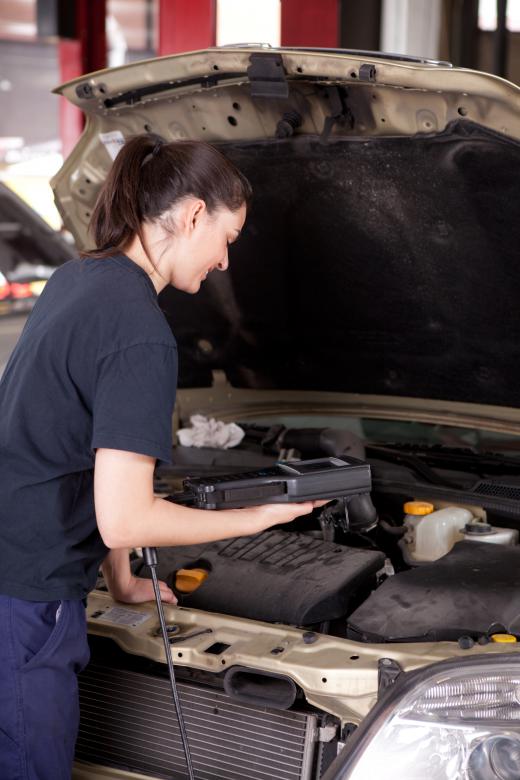 The process to become a mechanic apprentice can vary depending on where you live and what you want to work on. You should be mechanically inclined, willing to take instruction from people with more experience, and may also need your own set of tools. It is sometimes possible to become a mechanic apprentice with no formal vocational training, though a substantial amount of aptitude is usually required in that case. In other cases you can attend a training program at a community college or vocational school, after which you may become a journeyman or apprentice mechanic. Some countries have government operated apprenticeship programs, so you can also check into those opportunities if you are interested in learning a trade.
Depending on where you live and the type of vehicles or engines you want to work on, you may be able to find a mechanic apprenticeship. This position is sometimes referred to as a mechanic's helper, and usually requires that you perform a number of basic tasks around a shop. You may be responsible for cleaning up, doing simple repairs, or assisting a more skilled mechanic. Some shop owners prefer not to hire apprentices, though others appreciate the opportunity to train a new mechanic in their way of doing things. Job requirements can differ between shops.
In some cases, you can become a mechanic apprentice with little or no formal training. To prepare for the job, you may want to take auto shop or other similar classes in high school. It can also help to educate yourself about the types of vehicles you are interested in repairing. To apply for the position, you can create a resume that outlines any relevant experience and education you have, present yourself in a professional manner, and express both your interest in and knowledge of repair work. Some areas also have governmental initiatives, such as the Australian Apprentices program in Australia, that can help you become a mechanic apprentice.
Another way to become a mechanic is to attend a vocational school. These are typically one or two year programs that will familiarize you with repair procedures in a classroom setting. You may also receive practical experience that can be useful when looking for work as a mechanic. Some businesses may hire you as a journeyman after you receive this training, though you may still need to become a mechanic apprentice first. In either case, the knowledge and experience you gain from a vocational school can help you achieve your goal of becoming a mechanic.


By: Tyler Olson

A mechanic apprentice working.

By: Tyler Olson

A mechanic working.