How Do I Become a Financial Secretary?
Corporations in various industries employ secretaries to help manage workloads and delegate duties of various other positions. To become a financial secretary, a person must meet minimum education requirements, be computer literate, and have good organizational skills. In addition, those looking to become a financial secretary need to have a basic understanding of financial terms and understand regulations regarding privacy.
Financial secretaries handle some of the same tasks traditional secretaries handle. This includes filing paperwork, making travel arrangements, and compiling research for projects and company initiatives. Secretaries in the financial industry typically handle a large volume of data and need to understand how to compile financial reports and documents.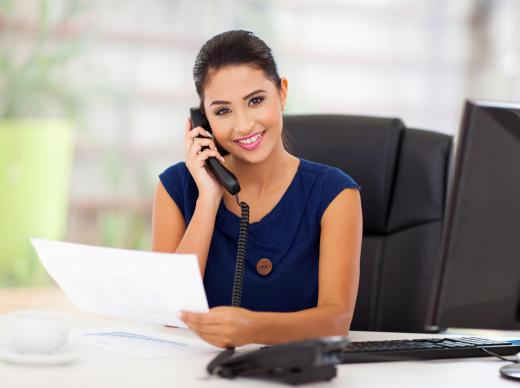 Those looking to become a financial secretary should have the typical minimum education requirements of most secretarial positions. A high school diploma or equivalent is usually recommended, but additional education may be required of those looking to enter the financial industry. Post-secondary education in fields such as finance, economics, and business can also be helpful in a competitive job market.
Secretaries complete the majority of their work with the use of a computer. Someone looking to become a financial secretary should be computer literate and understand how to work with basic computer software programs. In addition, candidates should also understand how to operate finance specific software and software programs related to spreadsheet maintenance.
Organizational skills will also be necessary for the position. Most secretaries handle multiple duties and responsibilities. Some may manage an entire department, while others may be appointed to a small group of managers or just one executive. The ability to juggle multiple tasks while completing all of them efficiently and accurately will help a person looking to become a financial secretary land a job.
Though not always required, a financial secretary should have a general understanding of the financial world, including regulations regarding privacy. Accurately preparing reports and documents related to financial statistics often relies on at least a basic understanding of the related material. In addition, an interest in the financial industry can also provide the motivation to show initiative and be rewarded with advanced duties and responsibilities.
Candidates looking to become a financial secretary can find positions in a variety of settings. Most positions will be located in an office, but some companies may allow secretaries to occasionally work from home. Various financial companies hire secretaries, including mortgage processors, banks, and investment companies.
AS FEATURED ON:
AS FEATURED ON:






By: michaeljung

Financial secretaries handle a large volume of data.

By: Nataliia

Compiling financial reports is part of a financial secretary's job.