How do I Become a Dog Walker?
A dog walker is a person who is responsible for taking their clients' dogs out for daily walks. According to the client's wishes, the dog may be walked once, twice, or multiple times in a day. If you become a dog walker, you will likely have many clients at once, which means that you will usually be walking several dogs at the same time.
The most important personality trait for someone wishing to become a dog walker is perseverance, because you must be willing to walk the dogs whether it is raining, snowing, or hailing outside. A love for dogs should come in as a close second. Dogs are very attentive to the way humans feel toward them and can usually pick up a non-dog-friendly person in a second. Also, you should be in relatively good physical health, as it can become quite physically demanding to handle several dogs, particularly if they are large or disobedient. Finally, to become a dog walker, you should have some understanding of canine psychology as well as how the pet parents relate to their dog and their expectations. The dogs will be better behaved and more prone to obeying commands in the presence of a dog walker who establishes him or herself as the leader of the pack.
Many professional full-time dog walkers add additional services to fill up free time and boost their income. After all, if you are already determined to become a dog walker, chances are that you will be taking care of dogs for most of the day. Some of these services may include dog grooming, dog sitting, or dog training. You may set out to become a dog walker, but as your business matures, some of your clients may trust you to take care of their dog while they are on vacation or they may choose to add a weekly grooming session for their pooch. To do this you will need the proper equipment, such as clippers, shears, and shampoo for grooming, and bowls, beds, and toys for dog sitting.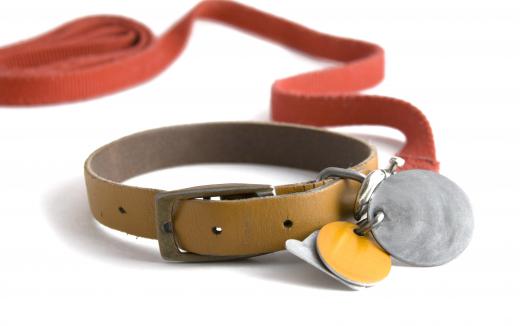 Dog walking is a job that grows primarily by word of mouth, so it is very important to do a solid, professional job from the start. Try and be as punctual as possible and treat your clients with courtesy and respect. Inquire throughout your area to find out what other dog walkers are charging and charge a fee that is comparable. Both overcharging and undercharging can make your service seem unprofessional. Advertising in the local paper, posting flyers, and handing out business cards can help your business grow as well. Make sure that these are clear and professional, with your contact information on them.
AS FEATURED ON:
AS FEATURED ON:






By: Quasarphoto

Some clients may want grooming services.

By: Alexey Stiop

Walking other people's dogs is a big responsibility.

By: lightpoet

A dog walker should have a true fondness for dogs.

By: Mat Hayward

Dog walkers should be in good health, as keeping up with a dog can be physically demanding.