How do I Become a Dialysis Nurse? (with pictures)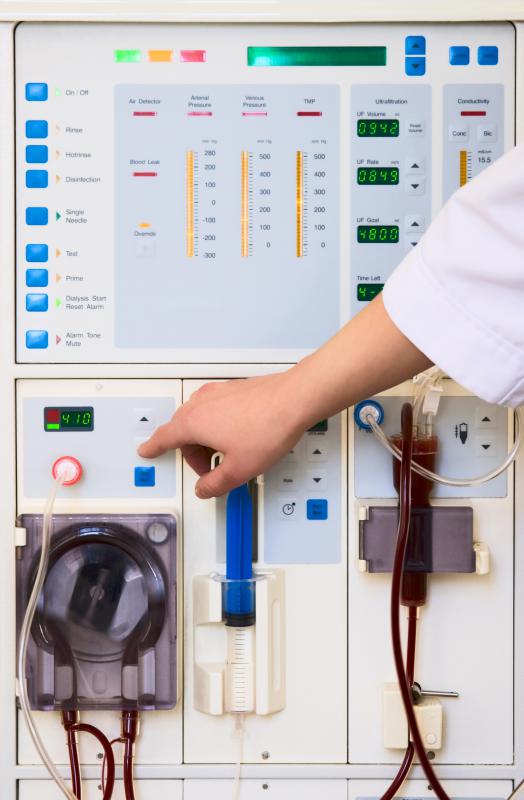 A person who wants to become a dialysis nurse typically attends nursing school, community college, or a university to earn a diploma or degree in nursing. He then goes on to earn licensing as a registered nurse by taking and passing a jurisdiction-approved licensing exam. The requirements vary after a person has secured a license to practice nursing. Some hospitals may train and certify dialysis nurses while other employers may expect a dialysis nurse to gain nursing experience and certification before applying for the job. Typically, an employer's requirements are influenced by the nursing standards observed in the particular jurisdiction.
Most people who want to become dialysis nurses start out by attending high school and earning a diploma. Many nursing schools accept equivalency diplomas, however, allowing people to enroll even if they didn't graduate from high school. A General Educational Development (GED) diploma is an example of an equivalent credential. The particular equivalency credentials educational institutions are likely to accept may vary from jurisdiction to jurisdiction.
After earning a high school diploma or GED, a person who wants to become a dialysis nurse may enroll in a diploma program at a nursing or vocational school. This type of program may take two to three years to complete, preparing students for the required nurse licensing exam and work as a registered nurse. Some people enroll in nursing programs that end in associate's degrees or bachelor's degrees instead. A person who wants to become a dialysis nurse may even go to school to earn a master's degree. No matter which program a person selects, he may sit for his jurisdiction's licensing exam after graduation; earning an advanced degree rather than a diploma or associate's degree may provide an aspiring nurse with more job opportunities, however.
After gaining nurse licensing, a person who wants to become a dialysis nurse may apply for a job at a hospital or other type of medical care facility. Some facilities are willing to train nurses to care for dialysis patients and even offer certification opportunities. Other employers may allow a registered nurse to begin working with dialysis patients and offer training but not certification. In such a case, an aspiring nurse may seek certification from a nursing agency. Often, nurses are required to gain experience working with renal patients as well as continuing education credits before they can sit for a dialysis certification exam.
A dialysis machine.

The dialysis procedure performs some of the functions of normal, healthy kidneys.