How can I get an Associate's in Nephrology?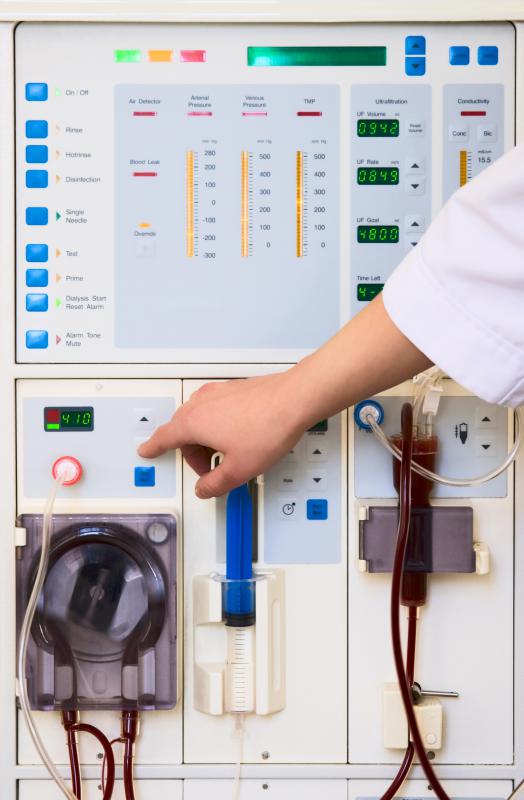 Nephrology is a branch of medicine that focuses on kidney diseases and functions, and those who want to work in this field should consider getting an associate's in nephrology nursing. While having a bachelor's degree in nursing may make you competitive in the job market, a faster option is to get an associate's degree in nursing to become a registered nurse, and then specialize in nephrology nursing by pursuing nephrology education at a nursing or technical school. With an associate's in nephrology, individuals in the medical field can increase their earning potential and expand their medical knowledge.
While there are many associates degrees that can get you into a nursing career, an associate's in nephrology will prepare you to enter one of the many lucrative nephrology careers, such as dialysis technician or nephrologist assistant. Individuals with nephrology training work in dialysis centers and kidney centers, as well as assist patients in hospitals and in home dialysis programs. Nephrology nurses can also work under a physician to coordinate care of patients with kidney disease.
Many schools focus on adult education, but individuals wishing to get specialized training in nephrology nursing should look at nursing schools, medical training schools, or technical schools. Many community colleges also offer associate's degrees in nephrology. Some universities offer degrees in nephrology, but they are likely to be bachelor's or master's degrees in nursing, which can take four years or more to complete. Many online colleges also offer two year associate programs in nephrology so you can earn your degree from home.
There are many schools that will award an associate's in nephrology, so it can be hard to choose the best nephrology education for your needs. To find the right school, contact the nursing department of the school you are considering attending and ask if it offers an associate's in nephrology. Be sure to thoroughly research online schools to ensure that the degree you receive will be useful in getting a job as a nephrology nurse or dialysis technician. Most colleges that prepare students for careers in the medical fields will also be able to tell you how many of their graduates are gainfully employed.
For individuals who already have a bachelor's or associate's degree in nursing, there are also training programs available from nephrology nursing associations. The Nephrology Nursing Commission offers certification in nephrology nursing. With this certification, nurses can become a certified nephrology nurse. In order to keep this valuable certification, certified nephrology nurses must also complete continuing education.
A dialysis machine.

A mortarboard and diploma for an associate's degree in nephrology.