How Do I Adopt a Guinea Pig?
You typically have two choices when adopting a guinea pig, also known as a "cavy". The first is to adopt a guinea pig from a shelter or animal rescue charity. The other is to locate an owner who is no longer able to care for his pet, and arrange for the adoption privately. In both cases, you should arrange to spend time with the guinea pig in order to understand its personality. You should also ask to see a recent medical report from a veterinarian who can testify to the guinea pig's general health.
If you hope to adopt a guinea pig, a good first step may be to contact animal shelters in your area. While some animal shelters only take in certain types of house pets, such as cats or dogs, some will also care for small and exotic pets. If the first shelter that you call doesn't care for guinea pigs, you should ask if they can refer you to a shelter that does adopt out small pets. Once you find an appropriate shelter, call and ask about its adoption process, you may also be able to get information about how to adopt a guinea pig from a shelter by visiting a shelter's website.
Many shelters require potential adopters to undergo screening process before being allowed to adopt a guinea pig or any other animal. This is to help ensure the well-being of the pet and that potential adopters are aware of their responsibilities to an animal. You may have to undergo a background check, supply the names and contact information of friends and family who can vouch for your character and may have to pay a fee to adopt a guinea pig. In many cases, a guinea pig adopted from an animal shelter will have undergone a thorough medical examination so that you can be made aware of any health problems.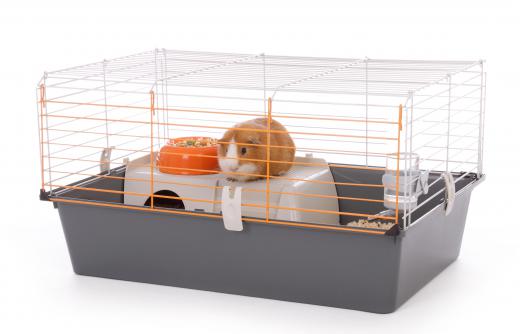 Another option is to adopt a guinea pig directly from an owner. You may hear about someone who has a guinea pig available for adoption, or you may locate a guinea pig through a classified ad posted online or in a newspaper. In many cases, the pet owner will not charge you an adoption fee and may even provide you with its cage, food and other supplies. The disadvantage to this approach is that the guinea pig may not have received a medical examination prior to your taking it home, and you may not be able to obtain an honest assessment of the guinea pig's health and personality from its previous owner.
AS FEATURED ON:
AS FEATURED ON:






By: Belkin & Co

Guinea pigs may be adopted at an animal shelter.

By: mariesacha

Guinea pigs are typically kept in a cage.

By: Feng Yu

Pets can be adopted through the classifieds.

By: Magalice

In most cases, guinea pigs adopted from an animal shelter will have received a thorough medical examination.