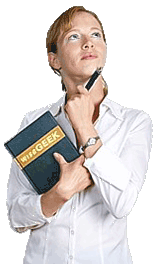 George Kaufman was an American playwright, best known for his play You Can't Take it With You. He was born in Pennsylvania in 1889, and died in 1961. During his 71 years he wrote a number of plays, won two Pulitzer Prizes, a Tony Award, and spanned the range of theatre, from writing serious dramas, collaborating on musicals, and directing award-winning productions. Although he is not a well-recognized name in the modern world, his plays still hold a great deal of weight in theatre, and some of his stronger plays are still regularly produced.
Born to a Jewish family in the late-19th century, George Kaufman initially went into law as a career. He quickly became discontented with the life he had chosen, however, and broke out of that role to find his way in the world. After a span of odd jobs, simply working to survive, he eventually became a journalist. From writing general copy for newspapers, he made his way to being a regular drama critic, and eventually The New York Times drama editor.
Kaufman began his Broadway career co-writing a play with two little-known playwrights, Larry Evans and W.C. Percival. This play, Someone in the House opened in 1918, in the midst of the global flu pandemic, which nearly laid waste to Broadway, as the public was told repeatedly not to venture out anywhere with large crowds. Additionally, the play simply wasn't very good, and the already meager crowds dwindled even further. Ever the wit, George Kaufman suggested to his producers that they sent out adverts advising the public that if they wanted to avoid crowds, they should go see the play.
Despite this early setback, George Kaufman quickly became a Broadway staple. From 1921 to 1958, in fact, not a single year went by without a play being produced on Broadway either written by or directed by him. Unlike many successful Broadway playwrights, especially those who worked primarily outside of musical theatre, George Kaufman loved to work with others, leading to his sometimes-nickname, "the Great Collaborator."
By far his favorite collaborator was Moss Hart, with whom he wrote some of his best and most popular plays. These included You Can't Take it With You, which won the Pulitzer Prize in 1937, The Man Who Came to Dinner, and Once in a Lifetime. With Hart he also wrote Merrily We Roll Along, a successful play in its own right, which in 1981 was adapted into a blockbuster Broadway musical by Stephen Sondheim and George Furth.
He also worked on a number of musicals, in spite of his insisting he had absolutely no musical instincts. He collaborated on the hit Of Thee I Sing with George and Ira Gershwin and Morrie Ryskind, for which he shared in the Pulitzer Prize in 1931. He also later directed a production of Guys and Dolls which was a smash hit on Broadway, and which helped to cement his reputation as an excellent director as well as a master of writing, and for which he won a Tony Award for Direction in 1951.


Woman holding a book