When Would I Need a Birth Certificate?
Individuals need a birth certificate as a proof of identity, age, and citizenship. A birth certificate or official copy often is required for admission to school, to receive a driver's license, or to apply for a passport. In some countries, like the United States, a birth certificate is necessary to obtain a Social Security number and card, essential to work or earn income.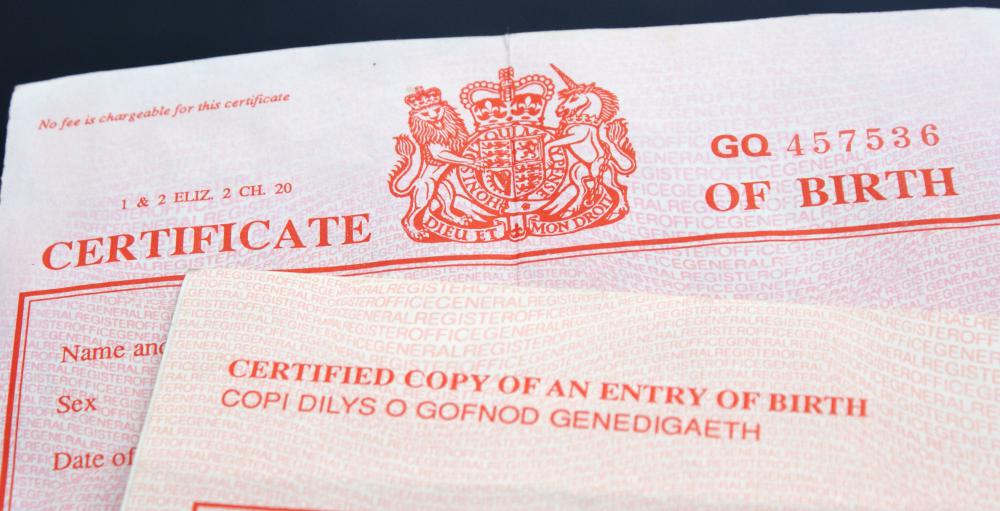 Most places offer the option of applying for a birth certificate right in the hospital when a baby is born. Since that infant will need a birth certificate throughout his life, applying right away is the easiest way to get an official certificate. A birth certificate is usually an individual's first form of vital record, and will be useful throughout that individual's life. Other vital records include marriage, divorce, and death certificates. No matter where an individual currently resides, the place where that person was born will keep the birth certificate on file.
If a birth certificate is lost or stolen, the vital records office in an individual's place of birth will be able to supply a certified copy, provided the right forms are filed. Most places allow a birth certificate form to be ordered in person, online, or by mail. There is usually a replacement fee for birth certificate copies.
You may need a birth certificate if you are tracking your family history or doing research for another purpose. Offices of vital records maintain important information for residents; this information can be useful if you are searching for an individual. A search for birth certificate records may be done in person, online, or via the mail, depending on the individual's state of residence. Since there are many different reasons you could need a birth certificate, it is a good idea to keep your birth certificate and any other vital records in a secure place. Replacing a lost birth certificate can take up to six weeks, so making sure that your records are safe and intact will help the next time you need a birth certificate.
By: Popova Olga

A birth certificate is usually required when applying for a passport.

By: Hedgehog

Replacement fees are charged when lost or stolen birth certificates are reissued.

By: WavebreakMediaMicro

A birth certificate contains information regarding the date, time and place of birth for an individual.