What Should I Know About Wound Care?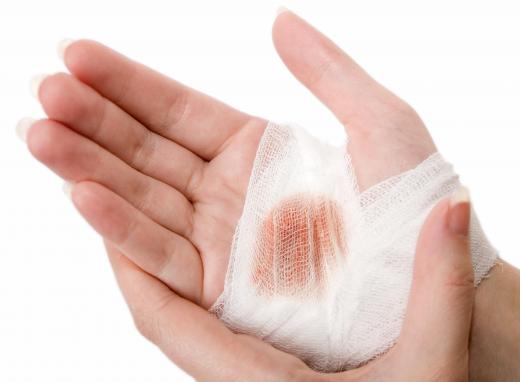 A wound is a break in the epidermis, or the outer layer of skin. A majority of wounds are caused by scrapes, but there are also lacerations and puncture wounds. Proper wound care is necessary to prevent infection and scarring. The steps necessary to provide proper care to the wound is determined by what caused the break in the skin.
Scrapes and abrasions are the least serious of all wounds. They occur on the surface of the skin and are characterized by a slow bleeding process that resembles oozing. The first step in proper wound care for this type of break is to stop the bleeding. Once that has been done, the wound must be cleaned by washing it under brisk running water for at least fifteen minutes, making sure to remove all dirt and debris. Wash the wound four times a day for the next two days, and keep it covered with sterile bandages.
Lacerations are cuts that penetrate through all layers of the skin and into the fat or tissues. They main characteristic of a laceration is severe bleeding. Apply pressure on the wound to stop the bleeding, then clean it under running water for ten to fifteen minutes. If the laceration is greater than half an inch long (1.27 cm) or won't stop bleeding after ten minutes, it is advised to call your doctor or visit the emergency room. Clean the wound four times a day for the next two days and keep it covered with a sterile bandage.
Puncture wounds are perforations in the skin, made by sharp, pointed objects, such as needles, ice picks and nails. These wounds may carry dirt and germs to the tissues, making them very serious. Proper wound care involves soaking it several times a day, for ten to twenty minutes, and applying a fresh, sterile bandage. Keep the wound lifted above your heart for 24 to 48 hours, if at all possible. If you think that something may have broken off in your wound during the puncture, contact your doctor for an x-ray.
Proper wound care, for all types of breaks in the skin, involves examining it daily. It there is any redness extending from the wound, or yellow drainage, contact your doctor, as you may have a serious infection. Verify when you had your last tetanus shot. If it was more than five years ago, get one done within 48 hours of your injury.


By: DenisNata

Keeping a wound covered and cleaned is important.

By: samantha grandy

Washing the wound with soap and water is the first step in preventing infection.

By: rikaphoto

Covering a wound with sterile gauze can prevent dirt and debris from entering the wound.

By: Kelpfish

A wound care nurse may monitor a variety of wounds.

By: roblan

Using peroxide on wounds can halt the natural healing process.

By: casanowe

In some cases, it may be necessary to have a doctor clean and dress a wound.