What Should I Expect from Gastrointestinal Surgery?
When you are set to undergo gastrointestinal surgery, you can likely expect a few things to take place regardless of the type of surgery you will receive. You will generally be asked to refrain from eating for several hours before surgery is set to begin, sometimes as many as 24. This will allow your digestive tract to empty itself, making it possible for surgeons to operate more easily and preventing bacteria from partially digested food from entering the body. An enema may also be given to clean out the colon, especially if this is the area to be operated upon.
You may be asked to stay in the hospital the night before surgery if your operation will take place in the morning, and a few hours before surgery if it will be in the afternoon or evening. Often, an exam will be done to check all vital signs and to make sure any preexisting conditions are under control. As with any surgery, gastrointestinal surgery comes with risk factors that must be monitored. For this reason, your general health and well-being must be evaluated and monitored both several days and directly before surgery.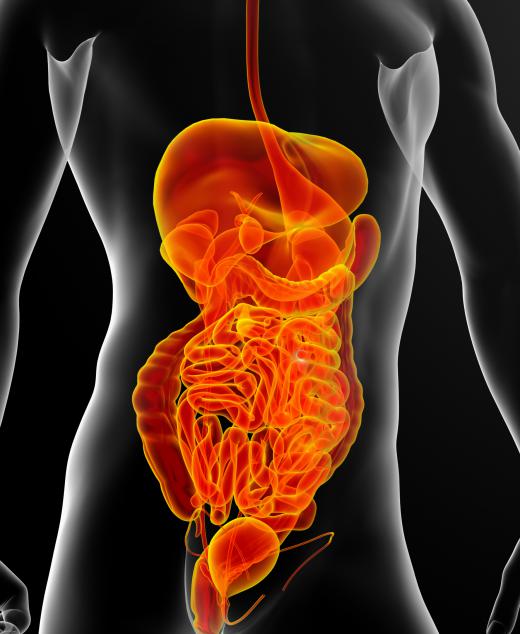 The duration of a gastrointestinal surgery will depend on the type of operation being done. One of the most common procedures is a colonoscopy, which takes only an hour or so to complete. More complex procedures, such as gastric bypass surgery, can take several hours to get through. In most cases, you will be given anesthesia to cause you to become motionless and to numb your body. The medication will also cause you to fall asleep until after the procedure is over.
Once you have been moved into recovery, the process of healing will begin. You may not notice any pain or discomfort until the anesthesia completely wears off. When you do regain full feeling of your legs and torso, you may have burning or pain at the incision site. This can be lessened by taking a prescription pain reliever and by remaining immobile for as long as possible. The amount of discomfort you can expect from gastrointestinal surgery recovery will depend on the operation, but most often will be mild to moderate.
A day or so after surgery takes place, you may be instructed to begin moving around again. Showers or baths may also be allowed at this time, but you should still avoid allowing the incision to be hit directly by running water. Most discomfort you can expect from gastrointestinal surgery will be related to the incision site, so following instructions on keeping the area clean and dry will help alleviate some symptoms. Any lingering discomfort will likely be treated with pain medication.
In some cases, an infection may result from gastrointestinal surgery. More than likely, it will be successfully treated with antibiotics, so long as you seek the advice of a medical professional as soon as symptoms of infection appear. These can include burning and inflammation at the incision site, a pus-like oozing from the incision, fever, nausea, and vomiting. If any of these symptoms are present, consult your doctor immediately.
After some surgeries, you may experience an upset stomach when eating certain foods or when eating too much. For this reason, you will likely be put on a very restricted diet for several days to weeks after the surgery. You may start off being allowed only liquids, and then progress to bland solid foods. Eventually, you may be able to enjoy your regular diet again, although in some cases your stomach may remain sensitive to certain foods. In most cases, the benefits you can expect from gastrointestinal surgery will far outweigh the negatives.


By: womue

Following gastrointestinal surgery, a patient will eat bland foods like cooked rice.

By: derege

The type of gastrointestinal surgery performed depends on the needs of each patient.

By: maya2008

The gastrointestinal tract includes a person's esophagus, stomach, intestines and colon.