What Should I Consider When Painting a Room? (with pictures)
So the old color is getting to you and you're getting the itch to paint that room? What are some things to consider when painting a room?
The first thing to think about, obviously, is paint. What color? What kind of finish? Many stores that sell paint have sample size containers so a buyer can have a custom color mixed and can put it on the wall to see how it will look. This is important in determining a final color, since a color may change slightly when applied over other paint. Color can also change as the daylight changes in the room, so the buyer needs to observe the color during the day and at night when the lights are on in the room.
A paint's finish is also important. Years ago, most people painted their living area rooms with a flat paint. This kind of paint does not reflect light, but it also does not wash well. A more recent innovation is the eggshell finish. This paint has a slight sheen, but is not noticeable. It also is much easier to clean than flat finish paint.
Semi-gloss paint has a sheen, but isn't shiny. This paint washes easily and is great for trim work and walls where stains are more frequent, such as the kitchen. Glossy finish paint has a noticeable shine and tends to reflect light. While entirely too shiny for a living space, high gloss paint works well in bathrooms and is also good for trim and molding, again because it washes easily.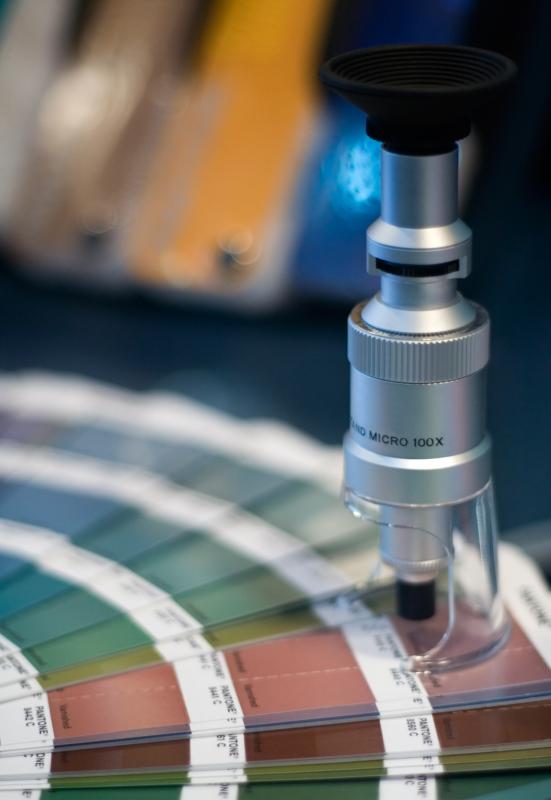 The next point of consideration when painting a room is how much paint to buy. Every paint container will have a guide on how much surface area a gallon of that paint will cover. In order to buy accurately, a painter needs to know the size of the room. Area is figured by multiplying length times width (or base times height).
For instance, if a wall is nine feet (2.74 meters) high and eight feet (2.43 meters) wide, then the surface area of that wall is 72 square feet (about 21 square meters). This measurement still works, even if the wall is broken by windows. It is always preferable to buy too much paint and have it all tinted the same color at the same time, than to buy too little and have to risk the next batch being tinted a slightly different color.
A gallon (3.7 liters) of paint will usually cover about 400 square feet or 121 square meters, but this can vary, depending on the wall texture and paint consistency. At least two coats of paint are usually necessary in order to get an even color, but if the current paint is darker, more may be needed, or the painter may want to buy primer and start there.
Primer helps prepare a wall to accept paint, but it is usually personal preference as to whether to use a primer or just add an extra coat of paint to a wall. One exception is when the wall is mildewed or has mold. In that case, a painter will want to buy a primer than kills mold and mildew and use it under the paint, to keep the mildew from coming through the fresh paint.
A painter also needs to think about supplies when painting a room. He or she will want dropcloths, to keep the floor clean, paint trays, rollers with extenders, a couple of paintbrushes, both narrow and wide and painter's tape, at the least. Preparation probably takes as long as the actual painting, but taping up the windowpanes and sills and around the light fixtures will pay off in a more professional looking result. The painter will also want some sort of paint remover, in case of accidents. Most stores that sell paint also sell all sorts of painting supplies.
Paint varies in price from $15 U.S. Dollars per gallon to over $30 USD. It depends on the manufacturer. However, a painter will be rewarded for his or her hard work with an inviting room that looks like new.
Color is just one thing to consider when painting a room.

One gallon of paint usually covers about 400 square feet.

There are so many paint colors to choose from that redecorating can be overwhelming.

There are a variety of brush sizes and styles that can be used for painting a room.

A paint's finish is important to consider when painting a room, as you may want something that reflects light and cleans easily.

Some paint colors show up better if a primer is used first.

People who prefer a modern aesthetic may want to paint the room's walls and buy furniture in complementary monochromatic shades.