What Should I Consider When Buying Beach Towels?
There are several considerations to take into account when buying beach towels. Thinking about your needs beforehand will make the process much easier, and may save you money as well, by allowing you to shop around with very specific needs in mind. Since a good beach towel can be an important thing for some people, once you have found ideal beach towels, it is an excellent idea to buy more than you need, so that you will always have enough.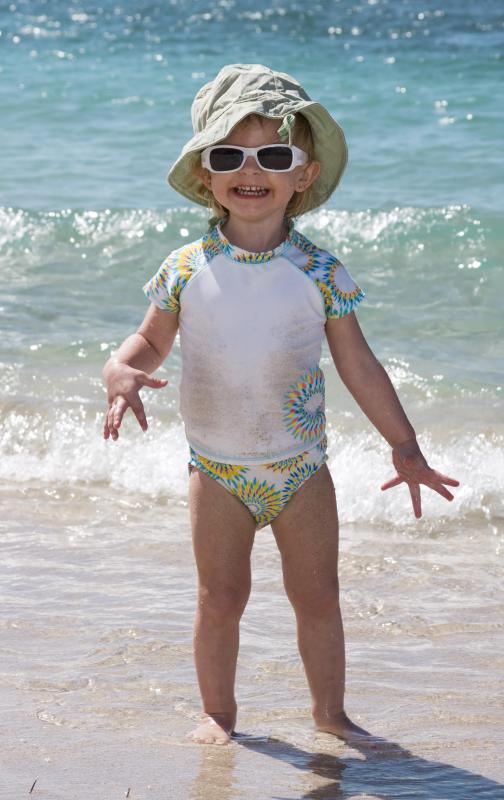 The first thing to think about when buying beach towels is what they are going to be used for. Although the name implies that they will be used on the beach, beach towels may also be used at the pool, for hot tubbing, or at recreation areas like rivers and lakes. While in active deployment, beach towels may also be used in different ways by different people. Some people, for example, prefer to lie on their beach towels or spread out food on them, while others actively use the towels for drying off or wrapping around themselves when they get out of the water.
If you are buying beach towels to use them to dry off, you will probably want to seek out fluffy, dense beach towels made from cotton or a highly absorbent synthetic material. Try to avoid polymers, since they tend to be water resistant, and you want beach towels to wick water off of your body. Thick, soft beach towels with a dense pile are also more comfortable to use, in addition to being more effective for full heads of hair. You may also want to check on the size, as larger beach towels tend to be better for drying off and covering up, to ensure that all parts of the body are covered.
On the other hand, people who are buying beach towels to sit or lie down on do not have the same concerns. The beach towels do not have to be as absorbent, and they can be thin or made from water resistant synthetics. Size, however, can be very important, especially for tall people who are buying beach towels. As a general rule, if beach towels are being used like blankets to sit or lie on, they should be longer than the humans who might use them.
Aesthetics is also a concern when buying beach towels. Many companies make beach towels in lurid colors, or with bright, sometimes unappealing patterns. If more staid beach towels are required, it is a good idea to buy beach towels from more upscale department stores. If the color or pattern does not matter and price is a concern, bargain stores often carry extremely large, comfortable beach towels which are ideal for sitting on and drying off with, although the colors may be perilously bright. However, this does ensure that the towels are unlikely to be lost.
Colored beach towels.

Fluffy towels are necessary for drying off after getting wet at the beach.