What Should I Consider When Buying a John Deere Garden Tractor?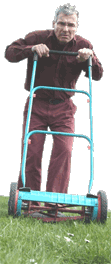 In some ways buying a John Deere garden tractor is like buying any other type of vehicle. As with choosing a car, it is well worth researching your purchase at the manufacturer's website so that you can decide upon the model or models which suit your needs and seek them out, rather than search blindly for a bargain. But there are several factors which are specific to the market for John Deere tractors.
If you are buying a new John Deere garden tractor, you should strongly consider using a specialist John Deere dealer. You may be tempted by major chain stores which appear to offer particular models for substantial discounts, sometimes almost 50% off. However, in many cases these will actually be a special model custom-built for the stores. Though they are the same size and style as the equivalent model in the standard John Deere range, they will have many features either removed or downgraded to make a lower price. Such models may be still suitable for your needs, particularly if you are a casual user, but you should investigate carefully rather than simply go for the cheaper option.
If you are looking for a second-hand John Deere garden tractor, you should remember that the process is not the same as buying a second-hand car. It is a much more specialized purchase and you won't simply be able to go to a local lot. Your best option to avoid being ripped off will probably be either to find a specialist dealer with an established reputation, or to buy privately from an individual who is selling an unwanted tractor. Given the costs of a John Deere garden tractor compared with most household items, it may also be worth keeping an eye out for them in bankruptcy auctions.
If you are looking to buy a John Deere garden tractor as an investment, you will be looking for an antique tractor. The biggest problem with such purchases is that, unlike with cars, the market is too small for there to be a firmly established price guide. One solution to this is to look at actual prices from sales through a site such as Yesterday's Tractors. Note however that most of the sales are from ten years ago or more, so you will need to take into account both the effects of inflation in the meantime. You'll also need to figure out the comparative age of the tractor you are interested in now and the age of the listed tractors at the time they were sold.
Man mowing the grass