What Should I Consider Before Buying a Sport Utility Vehicle?
There are both positive and negative aspects of owning a sport utility vehicle, also known as an SUV. For each individual situation, consumers should weigh these attributes alongside their needs. For some, the sacrifices made for ownership outweigh the benefits, while for others they will not.
Many appreciate the versatility that a sport utility vehicle can offer. It can be useful in a variety of situations. In an SUV, you can just as easily haul construction equipment and climb off road as you can haul the kids with their sports equipment.
The style of a sport utility vehicle is a major draw. For those young hip parents who don't want to be seen in a minivan, an SUV can provide a stylish alternative. With many body types available, a sport utility vehicle can be as cool, sophisticated, or utilitarian in appearance as desired. Parents can have a stylish car with the space of a minivan.
The heaviness of the vehicle and features like four wheel drive make it versatile in various weather and terrain conditions as well. In general, it can handle off-road conditions, like mud, and weather conditions, like snow and ice, better than a standard car. SUV construction has come far enough that one will often feel much more like car than a truck while navigating the road.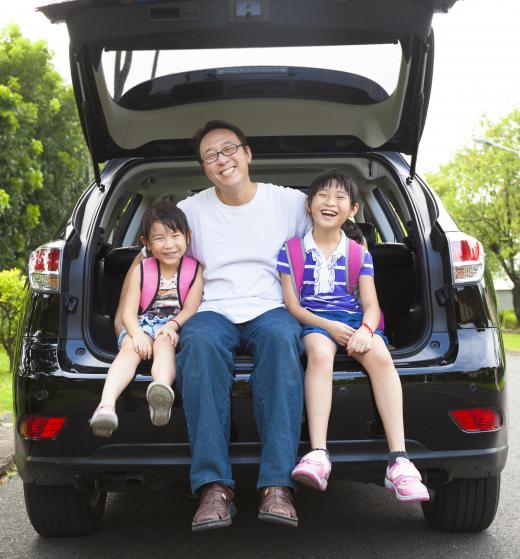 There are a few downsides to choosing a sport utility vehicle. The most talked about negative is the poor gas mileage. Since it is a larger vehicle than a standard car, it will use significantly more gas. This extra use of fuels not only contributes to their overall cost, but is arguably bad for the environment. Some scientists believe that carbon emissions cause damage to the environment, while the extra use of fossil fuels is sometimes characterized as irresponsible.
Logistically, a sport utility vehicle may be more difficult to enter than a traditional car. For those with back and leg problems, it may not be practical. However, some find the seats to be more comfortable in SUVs than in compact cars. Additionally, while manufacturers have done their best to reduce the rollover rates, an SUV still has a greater chance of rolling than a smaller vehicle since they are top heavy.
On top of fuel costs, other maintenance costs are generally higher. Engines are larger, as are most other parts. The larger the parts, the more expensive they tend to be. Even tires on an SUV can be double the cost of car tires. If these extra costs can be justified by the positives that an SUV has to offer, than perhaps a sport utility vehicle is the perfect vehicle for that buyer.


By: Marc Xavier

A sport utility vehicle may have poor gas mileage.

By: algre

Versatility in various weather conditions and traditionally higher gas and maintenance costs are just some things to consider before buying a Sport Utility Vehicle.

By: Unclesam

The tires on a sport utility vehicle (SUV) may cost twice as much as standard tires.

By: Tom Wang

Some families prefer SUVs over minivans for their versatility and more stylish look.

By: Patrick Poendl

Certain SUVs are better suited to driving off-road.

By: Robert Wilson

Small SUVs tend to get better gas mileage than large ones.