What is Wrongful Death Medical Malpractice?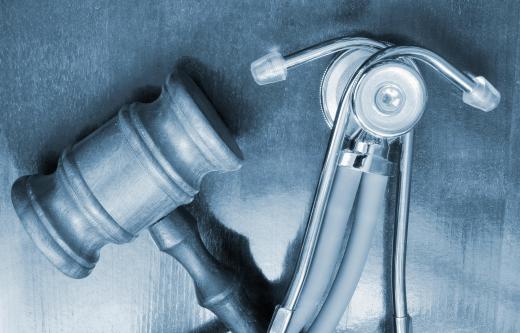 Wrongful death medical malpractice refers to a situation in which a doctor's actions lead to the death of a patient due to negligence or a poor medical decision. This situation is a crime and can be used to obtain monetary compensation for the family of deceased patients who were the victims of wrongful death, and may result in the doctor involved losing his or her medical license. In order to get a conviction for wrongful death medical malpractice, it is necessary to prove that the doctor acted in a way that was unreasonable in the given situation. This means he or she took unnecessary risks, performed unneeded procedures which resulted in death, or ignored patient symptoms which turned out to be a serious illness or condition which led to death.
In a wrongful death medical malpractice case, the doctor or medical professional usually did not willingly cause the patient to die. In this way, it is not always the same as homicide. The death is often accidental in nature but came as a direct result from poor medical care or negligence. This is not always the case, though, as the main difference between murder and wrongful death, is that murder is a criminal case and wrongful death is a civil case. The same crime can be labeled as both murder and wrongful death, and the defendant can be tried and convicted for both crimes in regards to the same incident.
Loved ones of the deceased patient are generally given a settlement of cash if wrongful death medical malpractice can be proven. This usually includes the cost of all medical bills and burial costs. Other factors may also be considered, such as emotional distress from losing a loved one as well as the amount the person would have earned in wages at his or her place of employment. This would also require the judge or jury to determine how long the patient could have reasonably been expected to live had the medical blunder not taken place. An extremely ill person who would have only lived a year or two further anyway may not have earned wages, so no money would be awarded for lost earnings.
Every location may have different rules for who can file a wrongful death charge. Mostly, those who depended on the deceased for financial support file wrongful death medical malpractice cases, although this is not a rule in all areas. In some instances, money may have to be split by multiple plaintiffs.


By: Valeriy

In a wrongful death medical malpractice case, a judge may determine if compensation is deemed necessary.

By: beerkoff

Wrongful death medical malpractice results when a patient dies due to insufficient care from a physician.