Miscellaneous
Fact Checked
When someone appears lost in his or her own thoughts or engages in a daydream, this is known as woolgathering. Woolgathering is indulged in by people all over the world, in situations ranging from dull offices to crowded commuter trains. While woolgathering can be an excellent way to relax, it is unfortunately necessary for most people to return to the real world at some point.
The term comes from the practice of gathering small scraps of wool left behind on bushes and shrubs by sheep. People could occupy themselves with woolgathering when they were bored or evading other work, and it probably provided ample opportunities for pondering and day dreaming. Some members of the lower classes engaged in gathering wool more seriously, in the hopes of collecting enough to sell or spin into yarn which could be used to make a garment. In the end, the net harvest of a wool gathering expedition could be rather small and unproductive, as combing and carding the wool might be more work than it was worth.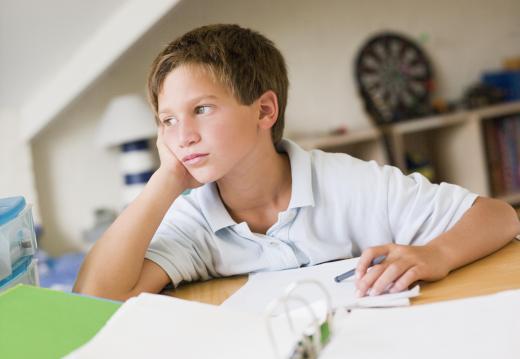 People have been using "woolgathering" to refer to daydreaming since the mid-1500s, when sheep were a pervasive part of life for many people. In its original use, it implied a sense of wandering aimlessly and without any real purpose, and suggested that the woolgatherer could perhaps be better occupied with something more productive.
While daydreaming can be unproductive, it can also be turned to good use. Some writers like to woolgather before they start work, for example, by collecting various ideas and clearing their heads for the work they intend to do. Allowing your thoughts to wander can be beneficial for your subconscious, which will take advantage of your lapsed attention to rise to the surface. Woolgathering might net a name you can't remember, or the inspiration for a brilliant idea.
If you plan on a little woolgathering, it can help to plan ahead if you plan to do it in the presence of other people. No matter how boring people on committees and in classrooms can be, they generally get offended when people noticeably daydream. You may want to consider sitting near the rear of the room to avoid notice, and holding a pen or pencil can be useful, as it suggests that you are paying attention to the proceedings and preparing to take notes. On public trains and other public locations, make sure that possessions are secured before you start daydreaming, as a thief might see your lack of attentiveness as a golden opportunity.
AS FEATURED ON:
AS FEATURED ON:






By: Monkey Business

Woolgathering is another term for daydreaming.

By: WavebreakMediaMicro

While daydreaming can be unproductive, it can also be put to good use.

By: courtyardpix

Woolgathering is often indulged in by people in dull office environments.