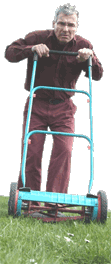 Wall veneer is a thin, ornamental coating that is applied to an interior or exterior wall. The purpose of the veneer is to create the illusion of a wall that is composed of specific elements even though the actual wall is made with other materials. While the main function of any wall veneer is as a decorative accent, some types are practical in their design and construction.
One of the more common examples of wall veneer used in the home is hardwood veneer. The veneer panels themselves are generally thin sections of an expensive wood, such as oak. The panels are applied to the surface of a wall that is composed of less expensive materials, such as sheet rock. As with all veneers, the thin panels are adhered to the surface of the wall using a durable glue that established a permanent bond between the oak veneer and the sheet rock. Once in place, it is almost impossible to tell the difference between oak veneer and solid oak paneling.
Along with wood veneer panels, many people find that stone veneers are very attractive in many settings. A wall veneer of this type is often different from a wood veneer, in that the surface is not smooth to the touch. The rougher texture helps to enhance the illusion of a wall made from stones and set in concrete. As with any wall veneer, the stone version adheres to the underlying wall with the use of strong adhesives.
A brick wall veneer may be used in the home or in the workplace. Sometimes employed to dress up an accent wall, veneer siding of this type also sports a textured surface that mimics the construction of a standard brick wall.
A laminate veneer may also be used in some room designs. The laminate provides the benefit of being extremely easy to clean, since it is treated to resist staining from dirt and grease. This option is not unusual for hallways, kitchens, and other high traffic areas. The laminate may have the appearance of everything from marble to wood paneling of any shade.
Wall veneer can also be used on exterior walls. In particular, the stone and brick varieties can be applied to smooth exterior walls and create visual interest near an entrance to the home. Storefronts and other businesses may also use exterior veneer products to help their shops stand out from the surrounding stores. Since exterior veneers are usually treated to withstand a variety of weather conditions, the veneers can last for many years with nothing more than routine maintenance.


Man mowing the grass