What Is Vegetarian Quiche? (with pictures)
A vegetarian quiche is a type of savory pastry dish that is made without any meat. Quiches are made up of eggs, cheese, and a wide variety of different types of fillings that are baked together in a pie crust. Any number of combinations of ingredients can be used in vegetarian quiches, though some of the most common are spinach, mushroom, and tomato.
The bottom of a quiche consists of an unsweetened pie crust. Most people use shortening in pie crusts, which is a type of fat that allows the crust to remain light and flakey. Shortening can be made from vegetable oils or from animal fat, but it is essential to use a vegetable-based shortening when making a vegetarian quiche. Alternatively, butter or margarine can be used in the dough.
Once the crust of a quiche has been prepared, the ingredients need to be placed inside. The eggs should be beaten so that they will fluff up as they cook and then mixed into the milk with shredded cheese so that the quiche has a rich, creamy base. The vegetables used in the quiche should be cut into small pieces and then mixed into the egg, milk, and cheese mixture. Alternatively, vegetables may be layered in the pie crust and the milk mixture then poured over the top.Once the ingredients are assembled, a quiche is baked until it is fluffy and completely cooked.
Spinach quiche is one of the most common types of vegetarian quiches. In this type of quiche, spinach, tomatoes, and mushrooms are used as the vegetable in the quiche and are usually paired with Swiss or Gruy&egravere cheese. Cheddar and broccoli quiche is another common type of vegetarian quiche. There is no limit to the ways a chef can combine ingredients in a vegetarian quiche, so long as no meats are used.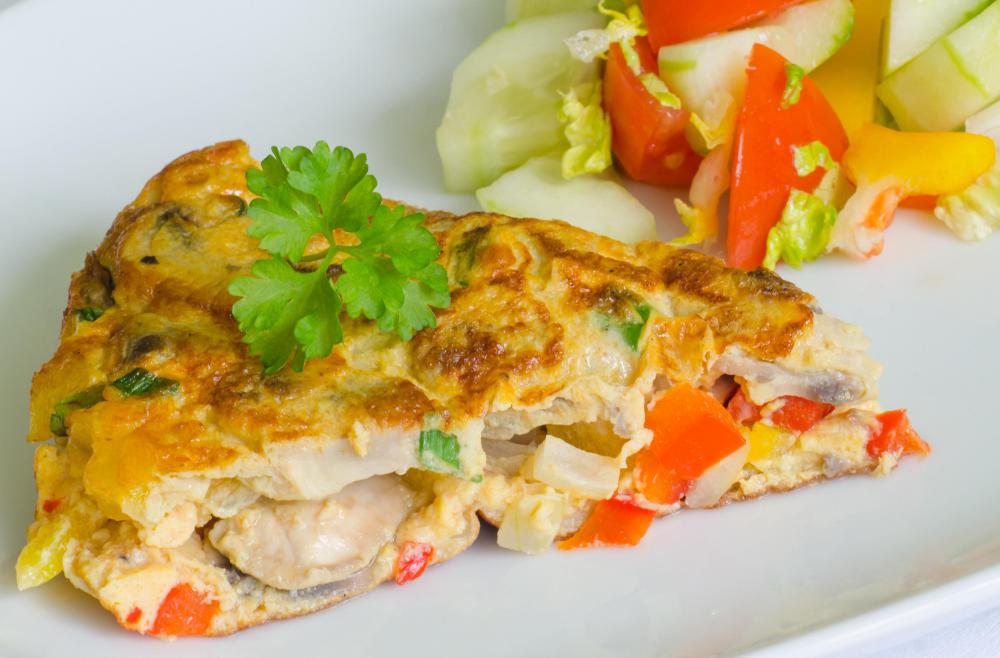 It is also possible to make a vegetarian quiche without any meat, dairy, or other animal products. Cheese can be replaced with vegan cheese substitutes or nutritional yeast for flavor. The cook can also replace the milk in a quiche with non-dairy alternatives such as soy milk, rice milk, or almond milk. Replacing the eggs is a little more difficult, but it is possible to use an egg replacer or oil and flour to help hold the quiche together, though it will not be as fluffy as a vegetarian quiche that uses real eggs.
Vegetarian quiche can include various vegetables like spinach or carrots, but contains no meat.

Eggs are one of the main ingredients in vegetarian quiche.

Spinach can be added to vegetarian quiche.

For a quick quiche, combine broccoli, peppers, and other vegetables fresh from the market.

A savory quiche made with seasonal vegetables and cheese is a vegetarian option that is high in protein.