What is Transfusion Medicine?
Transfusion medicine is an area of medicine focusing on the use of blood and its components in patient treatment. Patients may need transfusions for a variety of reasons, ranging from blood loss in surgery to therapeutic treatment for blood disorders. This field employs physicians, medical technicians, nurses, and support personnel for tasks like record-keeping and equipment maintenance. Many people have interactions with specialists in transfusion medicine at some point during their lives.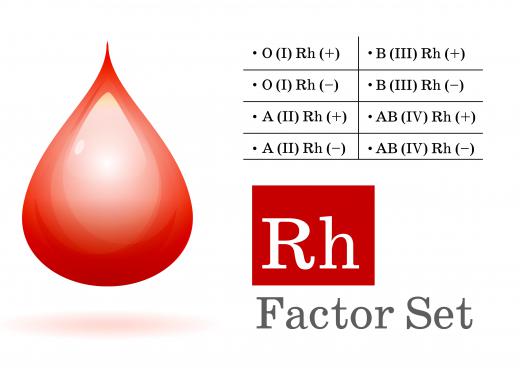 One important aspect of this field is the safe collection, handling, storage, and distribution of blood and blood products. Blood donors can give at hospitals, blood banks, and mobile donation centers. Nurses must screen all prospective donors for basic risks, and the blood also receives a thorough evaluation at the blood bank before the facility processes it for patient use. Keeping donors and patients safe is a critical part of transfusion medicine.
In addition to whole blood, collection centers can also extract blood components like plasma. Procedures like plasmapheresis take longer than conventional blood donation, but allow personnel to collect the blood products they need and return the rest to the donor. Units of whole blood can be subject to processing at the blood bank to break them down into further useful components for transfusion, allowing doctors and nurses to choose from a range of products when a patient needs a transfusion.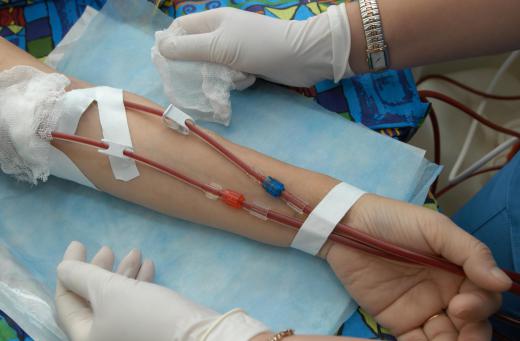 Correctly typing blood at the blood bank is another aspect of transfusion medicine, to make sure patients receive units of the right blood. If they do not, a transfusion reaction could occur and the patient could become very ill. Transfusion specialists can also perform specialty tasks like extracting stem cells for therapeutic treatments and preparing patients for autologous donation, where patients bank their own blood for use in therapies or procedures.
People with an interest in transfusion medicine can attend training programs at colleges and universities all over the world. The length of training varies depending on the end degree, ranging from a basic phlebotomy qualification to allow a person to draw blood, to a full medical degree for a physician who wants to specialize in this field. Qualifications allow people to take licensing exams in the regions where they wish to work. A fully qualified and certified individual should have a number of career opportunities, including work in blood banks, hospitals, and traveling blood collection facilities. Usually pay includes benefits such as access to retirement accounts and health care.


By: dazzi-b

Two packs of O- blood, which can be transfused to anyone.

By: Maxim Pavlov

The Rhesus Factor set of blood types.

By: dazzi-b

Blood plasma.

By: Max Tactic

Many people have interactions with specialists in transfusion medicine at some point during their lives.