What is a Stability Ball Workout?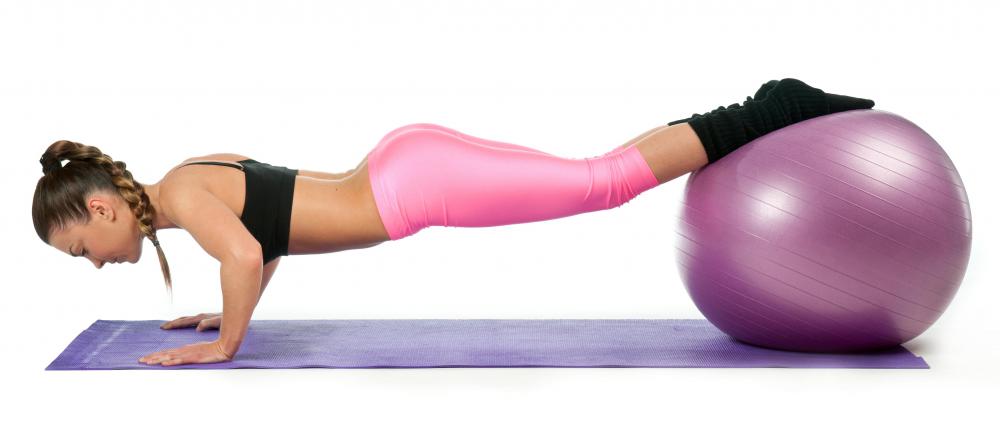 A stability ball workout is an exercise routine that uses a stability ball, a flexible plastic air-filled ball. The exact size may vary depending on the manufacturer, but stability balls are generally large enough for an adult to comfortably sit on it. Using a stability ball may help work the abdominal and back muscles, even during exercises meant to tone other body parts.
A common part of a stability ball workout involves a person positioning the ball flat on the floor and sitting on it with his or her feet planted firmly on the floor. The person can simply sit in the position or hold weights in each hand at his or her side, then lift the weights and curl them toward his or her body. He or she may also hold the weights over his or her head and gently pump them while sitting on the ball. Sitting on the stability ball while performing these basic arm exercises may also simultaneously tone the abdominal muscles; this is because they are supporting the exerciser's body so he or she remains upright and secure on the ball.
A stability ball workout may also focus on exercises that work several muscles groups throughout the entire body at one time. One common exercise requires a person to lie flat on his or her back while bending the knees up, similar to a position for a sit-up. The exerciser positions the stability ball between his or her lower legs, then bends at the stomach and curls up into a sit-up. While the exerciser is in the upright position, he or she grabs the ball with his or her hands before laying back down on the floor. The process is repeated by passing the stability ball back and forth from the hands to the legs during the sit-ups.
One of the possible advantages of a stability ball workout is the impact it has on strengthening the back muscles, particularly around the spine. Physical therapists may include stability balls for their patients' routines to help gently work their spines and build up strength in the area to relieve back problems. When a person sits on the ball, his or her body is forced to sit correctly upright or risk falling off the ball. Stability balls can also be used to improve an exerciser's posture during workouts in order to prevent injuries.
By: bertys30

A woman does pushups with her feet elevated on a stability ball.