What is the Connection Between Vitamin D and Calcium Absorption?
Calcium is a nutrient which is essential for healthy bones, blood clotting, and the proper function of nerves, muscles and the heart. Vitamin D and calcium absorption are connected because vitamin D enables the transport of calcium through cells in the gut lining and into the blood. Most vitamin D is obtained by exposing skin to the sun, but it also present in certain foods, particularly oily fish. As most diets do not contain sufficient vitamin D, it is often added to foods such as fortified cereals. Research into vitamin D and calcium absorption shows that a lack of vitamin D can lead to diseases such as rickets in children, where bones are soft and deformed, and osteomalacia in adults, where muscles and bones become weak.
The effects of vitamin D are vital for health, and some sections of the population require a greater than average vitamin D intake. Older people require more, because, after the age of 50, it becomes more difficult for the skin to make vitamin D in response to sunlight, and the kidneys become less able to convert the vitamin into its useful, active form. Babies who are being breastfed may need extra vitamin D, as they are unable to meet their daily requirements from their mother's milk alone.
People who have darker skin, or decreased exposure to the sun, may be unable to manufacture enough vitamin D in the skin. Overweight individuals store more vitamin D in fat, so there is not as much available to promote calcium absorption in the gut. Some people suffer from malabsorption and cannot absorb fat. As vitamin D is normally carried in fat, this means any vitamin D in food passes straight through the digestive system together with unabsorbed fat. Due to the connection between vitamin D and calcium absorption, if vitamin D levels fall too low, calcium absorption will be affected.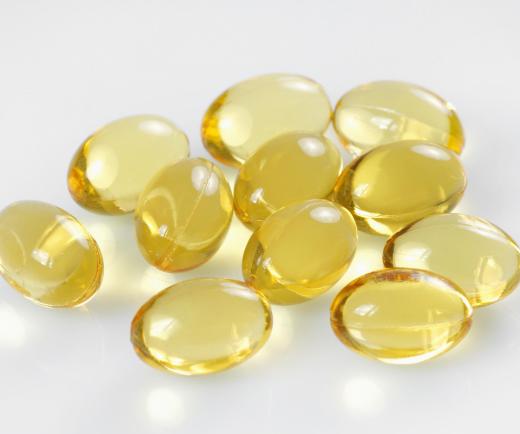 Supplements of vitamin D and calcium are best taken under a doctor's supervision. Studies into vitamin D and calcium absorption have demonstrated that taking too much vitamin D can be toxic and can lead to excessively high blood levels of calcium. If blood calcium levels become elevated, this can lead to constipation, kidney stones, bone fractures, confusion and, in severe cases, an abnormal heartbeat.
Although the benefits of vitamin D are understood and the link between vitamin D and calcium absorption is well-established, it is thought that many people still do not have an adequate calcium intake. Eating a balanced diet containing suitable levels of calcium and vitamin D is helpful, as is avoiding eating too much salt and protein, substances which encourage the kidneys to remove calcium from the body. Exposing the skin to sunlight several times a week, for around 15 minutes without sunscreen, can help to boost vitamin D levels.
AS FEATURED ON:
AS FEATURED ON:






By: Hyrma

Bananas contain calcium.

By: Mara Zemgaliete

Vitamin D supplements.

By: chee siong teh

A bottle of vitamin D supplements.

By: vlorzor

Milk is a good source of calcium.