What Is the Connection between Furosemide and Renal Failure?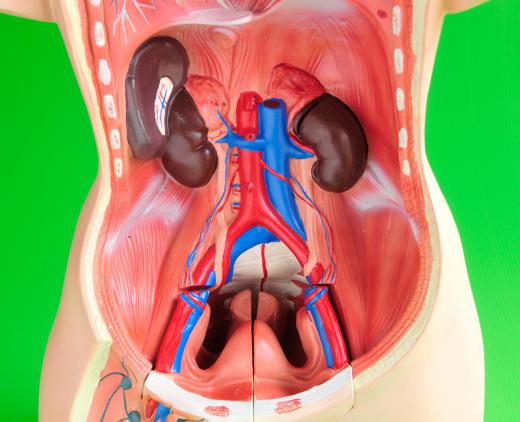 Furosemide and renal failure can sometimes be linked when this diuretic medication is used to treat failing kidneys. It can help stimulate urine production in patients who are not producing enough on their own as a result of kidney dysfunction. Paradoxically, it can also make kidney problems worse, so patients need to be monitored carefully while they take the medication. Concerns about the risks associated with furosemide and renal failure may also lead a doctor to choose a different medication if the patient has another condition like liver failure that might interact with the drug.
Patients with failing kidneys tend to experience a decrease in urine production, which causes edema, or water retention. With no way to get rid of excess water, the body starts to swell, particularly in the extremities, which can cause pain and discomfort. A medical provider may recommend furosemide or another diuretic to encourage the kidneys to express water, reducing the swelling. The medication should provide benefits within hours and may be provided at varying doses, depending on how well the patient responds.
Concerns about the link between furosemide and renal failure can come into play if the patient's kidneys appear to get worse, which can happen. This may occur when patients develop a metabolic imbalance because of the diuretic, leading to an increased concentration of certain salts in the blood. Patients can start to feel worse, rather than better, in which case the diuretic needs to be discontinued. Other drugs are available to treat edema, and may be less dangerous for the patient.
Studies on furosemide and renal failure suggest that in patients who respond well to this medication, high doses can increase the chance of survival by keeping urine clearance high. The patient will also need other treatments to stabilize the kidneys and address the underlying cause of the problem. It's also important to be aware that furosemide isn't appropriate in all cases; it can be dangerous in patients who have renal failure because of poisoning, for example.
Different facilities may have varying protocols for patients in renal failure, and practitioners can consider their own experiences as well. If they feel furosemide would be beneficial, they may recommend it, with monitoring to check for complications. In the event furosemide and renal failure develop a negative interaction, the medication can be withdrawn to allow the patient to recover and provide time to consider an alternative treatment.


By: satin_111

The kidneys and renal veins and arteries.