What Is the Connection between Estrogen and Estradiol?
The connection between estrogen and estradiol is that they are both hormones and are very similar to one another. Estrogen is a hormone important for sexual reproduction, and it is the primary sex hormone in human females. Estradiol is a form of estrogen that is produced by a woman's ovaries and is important to sexual organ development and reproduction. The other primary types of estrogen are estriol, which is dominant in pregnant women, and estrone, which is dominant in menopausal women.
Estrogen is a sex hormone that is often discussed in regard to its importance in reproduction, the menstrual cycle, and even the treatment of annoying symptoms of menopause. There are, however, various forms of estrogen, which is how estrogen and estradiol are connected. Estradiol is the main type of estrogen in a woman who is not pregnant. The two other primary estrogens are referred to as estriol, which is the form of estrogen a woman's body usually produces while she is pregnant, and estrone, which is the main form of estrogen produced when a woman is in menopause.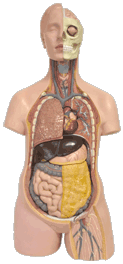 The estrogens that circulate in the female body, including estrogen and estradiol, are produced by a woman's ovaries or by the placenta during pregnancy. Follicles in the ovaries, which develop and mature eggs for release at ovulation, produce estradiol. The placenta, which helps to sustain a developing fetus, produces estriol. Though the various forms of estrogen and estradiol are important throughout a female's lifetime, estradiol is most important in the time leading up to ovulation. During this time period, it helps with thickening the lining of the uterus to prepare for a fertilized egg and making cervical mucus hospitable in case of incoming sperm.
It is important to note that most people do not distinguish between the different forms of estrogen when they are discussing this type of hormone. Instead, they usually use the word estrogen in a generic sense. Then, if there is a reason to discuss a particular form specifically, they may specify that they mean estradiol or another type. For example, many women who are hoping to conceive have fertility testing in day three of their menstrual cycles, and these tests typically check the level of estradiol present. Likewise, doctors might test estrone levels in menopausal women or those with certain ovarian and uterine conditions, and they may also test estriol levels in women who are experiencing high-risk pregnancies.
AS FEATURED ON:
AS FEATURED ON:






Anatomical model of the human body