What Is the Connection between Brain Tumors and Brain Cancer?
A brain tumor is an abnormal growth of cells in the brain. Some brain tumors are noncancerous, or benign, while others are cancerous, or malignant. The connection between brain tumors and brain cancer is that a certain portion of tumors found in this area will be malignant. Both types of tumors are serious, as the cranium is unable to expand to allow room for tumor growth.
In addition to being categorized as either cancerous or benign, brain tumors and brain cancer can also be characterized as being primary or secondary. Primary tumors originate within the brain, while secondary ones originate in other parts of the body and spread to the brain. The majority of malignant brain tumors are secondary.
Brain tumors and brain cancer cause problems in different ways and have detrimental effects through direct and indirect means. The direct methods consist of destroying and putting pressure on brain tissue that is close in proximity to the tumor. These tumors can elevate the pressure inside of the skull, known as intracranial pressure, and can also cause fluids to build up in this area. Brain tumors can also impede the normal transit of cerebrospinal fluid through spaces within this structure and can cause bleeding.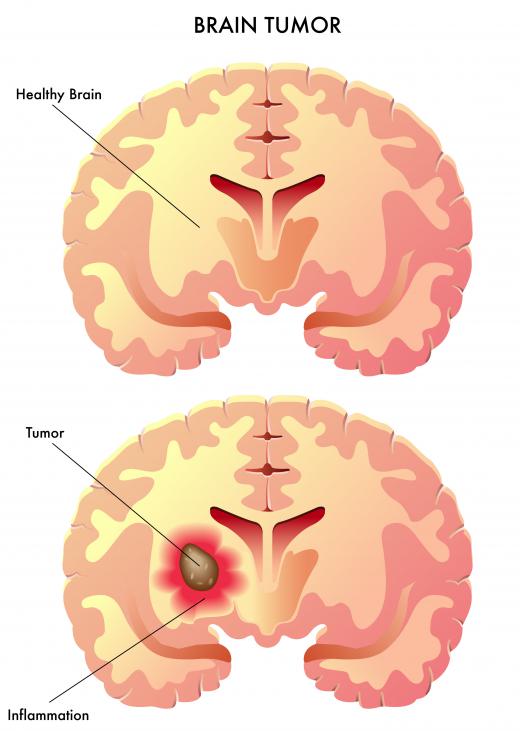 Both benign tumors and malignant tumors will cause symptoms. The most common and usually first symptom manifested is headaches caused by elevated pressure within the skull. Headaches arising from brain tumors normally become more and more frequent until they are constantly present. A gradually growing tumor characteristically produces headaches that are worse when the patient first awakens or when the patient is lying down, as opposed to sitting or standing.
Other symptoms of brain tumors and brain cancer will vary, depending on the area of the brain affected. Patients may experience personality or behavioral changes as will as mental confusion. Other symptoms include nausea and vomiting, speech disorders, and balance disturbances. Vision and hearing problems may manifest and seizures may occur, particularly in patients with a prior history of them. Patients should make an appointment with their doctor if they experience any of these signs, especially if they have headaches accompanies by nausea or vision disturbances.
Treatment of brain tumors will depend on their location and on whether they are benign or malignant. Noncancerous tumors may frequently be treated by surgical removal, but, under certain conditions, they may be left in place if they are not producing symptoms. Malignant tumors are commonly treated with a combination of surgery, radiation therapy, and chemotherapy.
AS FEATURED ON:
AS FEATURED ON:






By: withGod

Surgery is often necessary in cases involving malignant brain tumors.

By: rob3000

Symptoms of brain tumors and brain cancer will vary, depending on the area of the brain affected.

By: WavebreakmediaMicro

Some brain tumors are categorized as benign, while others are malignant.

By: Tryfonov

A brain tumor can put pressure on the brain but not be cancerous.