What is Software Development Outsourcing?
Software development outsourcing is the practice of hiring a software developer or software development firm on a contract basis to create or configure software. Businesses, schools, governments, and not-for-profits may all consider software development outsourcing at some point to handle their unique administrative needs. Although there are many types of software on the market that handle data management, such as QuikBooks® for accounting or The Raiser's Edge® for fund raising, an organization will often opt for software development outsourcing if they have special requirements that cannot be met by out-of-the-box software.
Whether a company wants to have their own unique software developed from the ground up, or have an existing software configured to suit their needs, they will need to work closely with the software developer or software development firm during the process. This process of developing software for a specific organization is sometimes referred to as a "project" and usually requires that the developers and the individuals who will be using the software work together to optimize the software's functionality. The developers will need to take many different factors into consideration when creating or configuring the custom software, such as which features from the organization's old system were useful and should be duplicated in the new software, and which features were inefficient and should be eliminated or replaced. Because of the collaborative nature of a software development project, development firms will sometimes relocate their project staff to the client's location for the duration of the project, in order to better accommodate the client.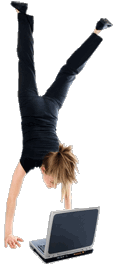 In addition to the actual software product, there are also compatible services that software development firms may offer their clients. If software development outsourcing turns into a long-term, large-scale project, developers might hold a series of training courses designed to teach the client how to use their new or improved software. Software developers that are outsourced by organizations may also offer post-project technical support, either as part of the software package or at an additional cost. This type of technical support facilitates a smoother transition for the organization, from their old system to their new software.
AS FEATURED ON:
AS FEATURED ON:






Woman doing a handstand with a computer