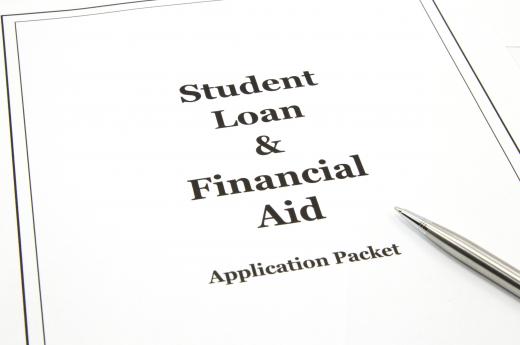 Self-help aid is financial assistance to college students provided to applicants in return for work or a promise of repayment. This includes participation in work-study programs, where schools pay students for work, often with the help of government subsidies. Additionally, student loans are a form of self-help aid, offered on the understanding that the student will repay them, with interest, after graduation.
This differs from other forms of aid like grants, gifts, scholarships, and awards. Self-help aid requires something from a student in return for the financial assistance, and can come with restrictions, depending on the nature of the aid. The student usually needs to file an application and may need to submit proof of financial eligibility, like low income to qualify the student for a work-study position or documentation of a good credit record to get student loans.
Applicants for self-help aid can choose from a number of options. Work-study is typically awarded on the basis of financial need and requires students to apply for positions on campus. It does not offer a guarantee of aid, as a student may not be able to find work. Student loans can include subsidized and unsubsidized loans through government agencies as well as private loans and alternative college financing. Alternative loans tend to come with higher interest but can provide extra funding when a base financial aid package does not meet a student's needs.
College financial aid offices typically maintain information on self-help aid along with other options for the benefit of their students. They may need to provide documentation to prove that students are enrolled in school and their financial aid applications are complete. This office may also be the routing point for any money, including checks from a work-study program and overage checks left behind after tuition and other fees are paid from loan disbursements.
Students who think they may need some form of self-help aid may want to plan ahead. Many colleges have limits on the types of aid they can offer, and early applicants are more likely to get extra assistance. Work-study positions, for instance, are often very limited, and students who qualify and start looking for work late may find that all positions have been filled. Deadlines on self-help aid can also be variable, as can the deadlines for grants, scholarships, and other forms of aid. Students should make sure they know which materials are due when so they do not miss out on financial assistance on a technicality.


By: mybaitshop

A student loan and financial aid application.