Salmon stir-fry is a preparation that involves stir-frying salmon oriental style with or without vegetables. Extremely easy to make, a delicious dish of stir-fried salmon can be whipped up in a few minutes if all the ingredients are prepared in advance. A salmon stir-fry preparation is an equally healthy alternative for those who tire of grilling salmon. Salmon stir-fry can be served over white or brown rice and noodles with or without additional sauces.
To prepare an excellent stir-fry, chefs cut all the ingredients ahead of time so that they can throw them together in a few minutes. They allow the oil to reach a piping-hot temperature before they put the ingredients in. Cooks typically use a wok or a pan to prepare the salmon stir-fry. The dish can be served for lunch or dinner and can be prepared in a variety of appetizing ways depending on the ingredients used.
Some cooks prefer to marinate the salmon in a little Dijon mustard and lemon juice. To get an exotic Asian flavor, they use stir-fry sauces like hoisin, fish, or oyster sauce. Duck, spring onion, and black bean sauce are some other hot favorites that cooks frequently use.
The ingredients required to prepare a basic salmon stir-fry are oil, garlic, soy sauce, and any stir-fry sauce. To pack in even more nutritional value, chefs use additional ingredients like bok choy, mushrooms, and broccoli. Red and green peppers, spinach, mung bean sprouts, and green beans are other vitamin-rich ingredients to use. Sugar snap peas and scallions are also delicious in a stir-fry dish.
To create a mouthwatering dish of salmon stir-fry, chefs heat oil in a wok until it is hot and throw in the chopped pieces of salmon. They stir-fry the fish until it is lightly colored; it should take around half a minute for each side. Once done, they remove it from the wok and place it aside. Next, they add the chopped or diced vegetables to the hot oil and stir-fry for around two minutes or until they are tender.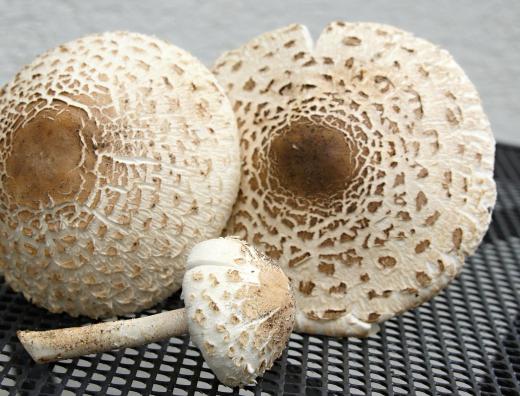 Soy sauce and any stir-fry sauce or other sauces must be mixed in thoroughly before throwing in the stir-fried salmon. When done, the salmon stir-fry is ready to serve as it is or over cooked noodles or rice. Spring onion leaves, cilantro, or basil leaves and toasted sesame seeds make a nice garnish.
Overcooking the vegetables is a mistake; they should still retain some crunchiness. To reduce the amount of oil in the stir fry, chefs use a vegetable-oil cooking spray. Adding spices like minced ginger, crushed red pepper, or Chinese five spice gives the stir-fry an even more intense blend of flavors. Cooks use exotic ingredients like orange juice, white wine, coconut milk, and runny honey to impart an unusual flavor to the salmon stir-fry.


By: rafcha

Mung bean sprouts are often added to salmon stir-fry.

By: andersphoto

Salmon.

By: Natika

Fresh basil leaves can add extra flavor to a salmon stir-fry.

By: Tim UR

Salmon can be cooked in a variety of different ways.

By: dalajlama

Mushrooms are a tasty addition to salmon stir-fry.

By: WimL

Peanut oil has a high smoking point and mild taste ideal for a salmon stir-fry.