What is Room Air Conditioning?
Room air conditioning, also known as window air conditioning, is a good alternative to central air conditioning for renters who live in older homes or those who have only a small space to cool. Additionally, even though they cost more to operate, room air conditioning units are attractive to those on a tight budget because they have a lower up-front cost. Room air conditioning units can be purchased for as little as $200-$300 US Dollars (USD), while central air conditioning systems cost thousands of dollars to install.
Window air conditioner units can be purchased at any home improvement store. Although it's natural to assume that bigger is always better, many people make the mistake of purchasing air conditioning units that are too large. If the unit you choose is too large, it will cycle on and off more often than necessary. This will wear down the machine faster and result in a higher energy bill for you. To determine what size of air conditioner you need, look at the size of the area to be cooled. For small rooms of 100 to 150 square feet (30.48 to 45.72 square meters), 5,000 Btu's is sufficient. For a studio apartment of 900 to 1,000 square feet (274.32 to 304.8 square meters), however, you'll need a high-powered unit with 18,000 Btu's.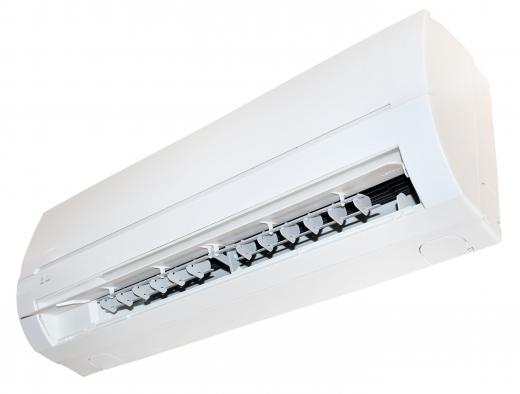 When looking for room air conditioning units, consider purchasing a product that is ENERGY STAR® qualified as having met the guidelines set by the US Environmental Protection Agency and the US Department of Energy. These products use 10 percent less energy than conventional room air conditioning units and often include features such as timers that allow for better temperature control when you're away from your home during the day. In this way, ENERGY STAR® products help prevent global warming while saving you money on your home cooling costs.
Ask a friend to help you install your unit, since many room air conditioners weigh 100 pounds (45.36 kilograms) or more. The unit must be stable and weather stripping should be applied around the area to keep outside air from entering your home. Placing the unit in a shaded location is recommended whenever possible, since this will help it operate more effectively.
Once your room air conditioning unit is installed, remember to replace the filters and coils as recommended by the manufacturer. A thorough cleaning is needed once per year to remove dirt, bugs, and leaves. Room air conditioners are louder than central air conditioning systems, so noise does not necessarily mean the unit is broken. However, if you notice it is also cycling on and off too frequently, repairs may be needed.
AS FEATURED ON:
AS FEATURED ON:






By: sheval

A room air conditioner.