What is Required for Grass Maintenance?
The needs of a lawn can greatly vary due to factors such as soil fertility and climate. Grass seeds, fertilizer, and mulch are often the first components of maintenance. A lawn mower is an essential piece of equipment for grass maintenance on most lawns and a string trimmer may be highly advisable.
It is fairly useless to consider grass maintenance if the lawn is not worth caring for. The first thing needed for many people is grass seed. A lawn is often devastated by nature's elements, such as the sun during the summer or the bitter cold of winter. This means that seeds will need to be sown so the lawn can recover, especially in certain spots. There are a number of grass options and some have a wide range of tolerance, which make them advisable for people who want to invest less time in grass care.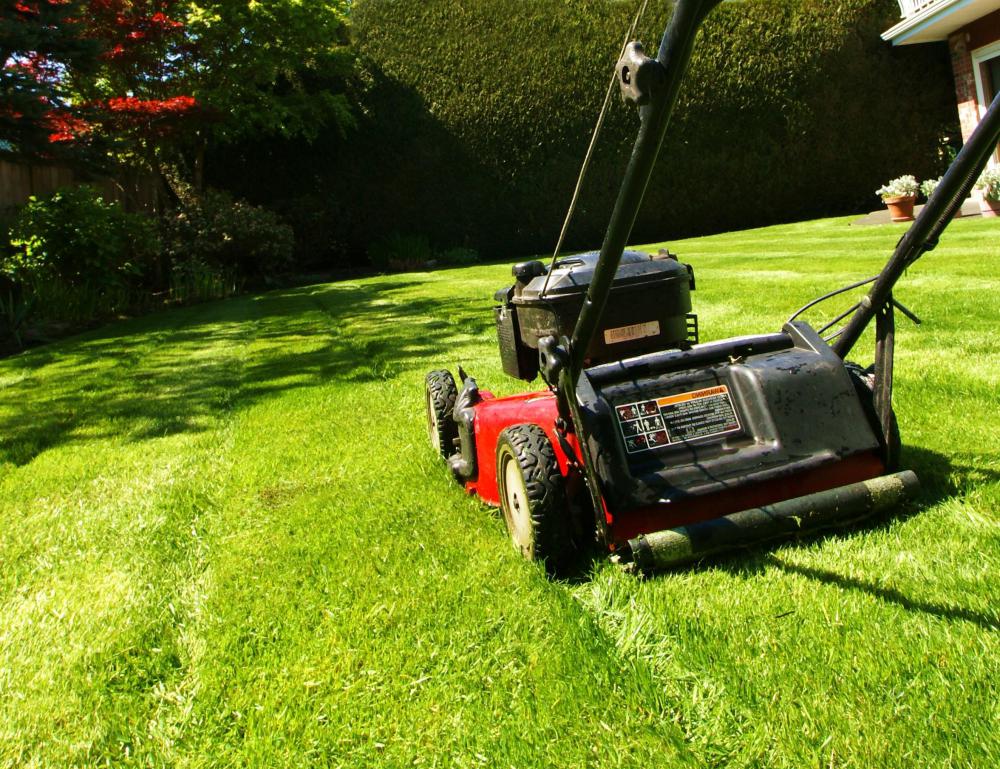 Some people can sow seeds and consequently a pretty bed of grass will grow. Other people may not naturally experience such positive results. When there is a known or suspected difficulty growing grass, the use of fertilizer and mulch are recommended. For many lawns, it is advisable to apply organic lawn food whether or not seeding has occurred. These products feed not only the grass but also the soil and are commonly credited for having a significant impact on the beauty of a lawn.
A lawn mower is an essential tool for grass care. Mowing allows a person to maintain order and control over the height of the grass. There are certain features that make some lawn mowers better grass maintenance tools than others. People with large properties are likely to find it most beneficial to have riding mowers, but they may also need push mowers. The characteristics of some lawns make effective grass maintenance difficult if a person has one but not the other.
Additionally, it may also be necessary to have a string trimmer. This is a piece of equipment that uses an oscillating line to chop down weeds and tall grasses growing close to objects such as tree trucks and lawn decorations. Without a string trimmer, this task is likely to be a hand job.
Although it is a very basic tool, a rake is one that stands the test of time and should be kept handy by anyone serious about grass maintenance. There are a number of uses for a rake, such as using it to consolidate debris from the lawn. Another important task for which a rake can be used is removing thatch, which is a layer of dead grass that when left on the surface threatens healthy grass.
An additional chemical product that may be needed to achieve the best results from grass maintenance is an herbicide. This is often the most effective and easiest way to kill weeds. The types of products recommended as herbicides tend to vary depending on the area but it is always important to be sure they will not harm the grass.