Ramelteon is a medication prescribed to treat insomnia, or difficulty falling asleep. This medication is a hypnotic drug, also known as a sedative. It is a melatonin receptor agonist that mimics the effects of melatonin, a substance that the body naturally produces to help maintain the body's natural sleep-wake cycles. As of 2011, ramelteon is not known to be habit-forming, although many other sleep aids can be.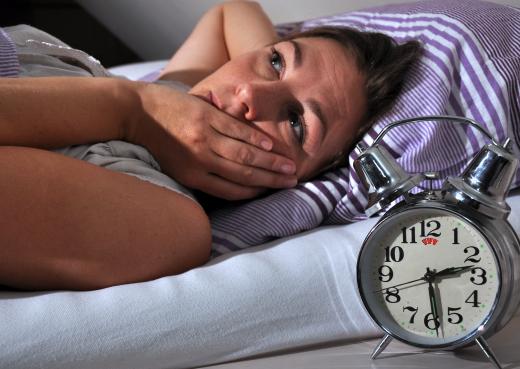 Patients should take no more than the prescribed dosage of ramelteon, typically about 30 minutes before bedtime. It should be taken without food and patients should avoid taking it soon after consuming a high-fat meal, because this can interfere with its efficacy. This medication comes in an immediate-release tablet and should not be chewed or otherwise broken. Patients should only take this medication if they have a full seven to eight hours to devote to sleeping. Most people should notice an improvement in their sleeping habits within seven to 10 days of using this medicine.
Some side effects may occur with the use of ramelteon, which should be reported to the prescribing physician if they become bothersome or persistent. Daytime drowsiness, tiredness, and dizzness have been reported. Some patients have also reported nausea and a headache.
Rarely, this medicine may cause patients to sleepwalk or engage in other activities while they are not fully awake, such as eating and driving. They later do not recall these events. It is likely that consuming alcohol or taking other medications that cause drowsiness can raise a patient's risk of this side effect. People who suspect that they may have experienced this should discontinue use and contact their doctors.
Serious side effects are uncommon, but they do require a doctor's immediate care. Patients should see their physicians if they experience abnormal mood changes, thoughts of suicide, or other strange thoughts. Fertility problems, missed menstrual periods, and decreased sexual desire have also been known to occur. Patients may also notice nipple discharge. In addition, signs of a possible allergic reaction to ramelteon may include difficulty breathing, the sensation that the throat is closing, and severe dizziness.
Before taking ramelteon for insomnia, patients must disclose their other medical conditions, medications, and supplements to the prescribing physician. As of 2011, it is unknown if ramelteon passes into breast milk. Women who are pregnant should only use this drug with extreme caution. Patients may be unable to use this insomnia treatment if they have liver disease, sleep apnea, or other breathing problems. Ramelteon may interact with other drugs that cause drowsiness, such as muscle relaxants and narcotic pain relievers, as well as antifungals.


By: Konstantin Yuganov

Ramelteon is considered a non-habit-forming sleep aid.

By: Dan Race

Ramelteon is used to treat insomnia.

By: blanche

Ramelteon users have reported experiencing daytime drowsiness as a side effect of taking the drug.