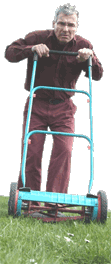 Pink coneflower is a flowering plant with large, colorful blooms and upright stems. It is popular in ornamental beds and borders, and a number of cultivars have been developed for gardeners interested in multi-hued flowers or flowers in unusual shades. Many gardening supply stores and nurseries carry pink coneflower seeds, and they can also be obtained through trades with other gardeners, an option that sometimes provides access to unusual cultivars.
The pink coneflower has a distinctive cone-shaped center in a bronze to orange color, surrounded by petals ranging from white to dark pink. The flowers superficially resemble daisies and are sometimes used in mixed plantings with white daisies to add color. Pink coneflower leaves are relatively small and unobtrusive, and the plants will bloom throughout the summer and into the fall in most climate zones before the flowers die back, leaving the leafy stems.
These plants are perennial, and can be trimmed back in the winter once the leaves die away. They will return in spring with a fresh flush of new growth, developing stalks in the late spring, just in time for flowering. If the flowerheads are left in place on the plant in the fall, they can attract birds interested in the seeds, and gardeners can also collect and save the seeds for future plantings.
Pink coneflower pairs well in the garden with ornamental grasses, as well as other tall flowering plants like daisies and cosmos. They do tend to develop a leggy appearance over time and are more suited to informal gardens where they can be allowed to sprawl. Cultivars with variegated flowers are available in some regions, and these plants generally grow well between United States Department of Agriculture (USDA) zones four through eight, growing in a range of soil conditions and enjoying partial shade to full sun in cooler regions.
In addition to being a colorful addition to the garden, pink coneflowers also make excellent cut flowers. The tough stems tend to last a long time, especially when provided with a small amount of plant food in water, and people can also hang and dry the flowers. Flower arrangements with pink coneflowers can be a decorative addition to the table and may include other sturdy, colorful daisy-like flowers such as gerberas and sunflowers. Lacy foliage can be useful for filling in gaps in such flower arrangements, and in the fall, sprays of orange and red foliage can add color and interest to flower displays.


Man mowing the grass