Panitumumab is a medication used in the treatment of metastatic cancers of the colon or rectum that have not responded to other cancer therapies. This drug may be offered along with treatment options like radiation and surgery, depending on the specifics of a patient's case. It is administered in a clinical setting under supervision, as there is a risk of serious adverse reactions and a patient may need emergency treatment to address bad responses to the drug. Typically, doses are given every two weeks.
This medication is a monoclonal antibody, as signified by the -mab ending. Panitumumab targets cancers known to express epidermal growth factor receptors. The medication binds to them, interfering with the reactions mediated by those receptors and causing the cancer to stop growing. Damaged cancer cells will be broken down and eliminated by the body.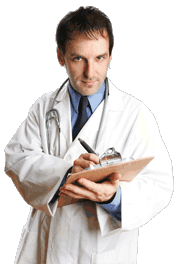 Patients on panitumumab frequently experience symptoms like light sensitivity, nausea, constipation, and fatigue. Patients can also develop swelling of the extremities, as well as a painful mouth and throat, causing difficulty swallowing. Patients should discuss side effects with their doctors, as some may be warning signs of a problem and others may be manageable, increasing patient comfort. Patients with side effects under control tend to have a better prognosis.
There are two potentially serious concerns with panitumumab therapy. One is a skin reaction, where a rash develops. The skin may become infected and because the patient's immune system is not as strong, the infection can become deep and aggressive. Patients who develop redness, swelling, heat, and other skin problems around the infusion site should report them so treatment can be provided in a timely fashion. Another concern is an infusion reaction, where patients receiving the drug develop difficulty breathing and can stop breathing altogether. If people notice shortness of breath or wheezing while receiving the medication, they should bring it to the attention of a doctor or nurse immediately.
While in treatment with panitumumab, patients will be monitored to see how well the cancer is responding and to evaluate their quality of life. Medical imaging may be needed in addition to blood tests and other diagnostic tools to check on the progress of the treatment. Patients will also be interviewed about side effects, as well as issues like depression. Providing detailed and accurate information to clinical providers is important, as it can allow them to catch issues like dangerous side effects early.
AS FEATURED ON:
AS FEATURED ON:






Doctor taking notes