What Is Open Source Integration?
Open source integration is the blending of databases, software applications, and hardware across a seamless network with the assistance of open source technologies. Such technologies may offer more flexibility and functionality to programmers than closed source systems, which may be more rigid in operation. It is possible to use a blend of open and closed source integration to accomplish specific goals, including the use of proprietary software developed specially for a particular firm. The process is continuous, as computer systems are dynamic and need to be able to evolve to meet changing needs.
Firms that rely on computer networks may use them to store, distribute, and control information. In a simple example, a telephone company needs to be able to maintain billing data for customers, and to communicate with repair technicians and other staff. This can require coordination between a number of different applications and hardware devices to track customer use, log trouble tickets, and perform a variety of other tasks. Open source integration can facilitate communication across the network to ensure that data will be available when it's needed.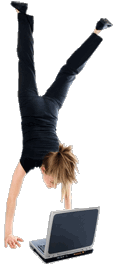 Databases are an important part of the open source integration process. They must store information in a stable and logical way to ensure it is accessible by different parts of a system. This could include mobile devices carried by field technicians, computer systems used by order fulfillment personal, and networks used by executives and analysts to track business performance and prepare accounting statements. The ability to integrate a database for accessibility across the network can make the network more functional and may cut costs by eliminating the need for costly transfers between different database systems.
Some open source utilities are available free of charge, while others may require fees. In open source integration, computer technicians develop a backbone for a system to allow for communications across a network. They can also develop tools to transmit to other networks, as data sharing may be necessary in some settings. Scientists, for example, may want to be able to upload genome sequences to a central database for anyone to look at, which can require open source integration.
Information technology specialists who focus on open source integration may provide ongoing support for a large company. They can also act as consultants for projects at smaller firms that do not need a full time staff. Software and hardware companies, particularly those which supply complete systems like point of sale technology to clients, also utilize open source integration specialists.
AS FEATURED ON:
AS FEATURED ON:






Woman doing a handstand with a computer