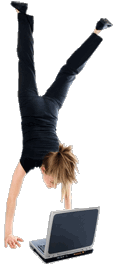 Online therapy most often refers to people receiving counseling and advice online from therapists. This may also be called e-counseling or e-therapy. Generally, the model is to work with therapists who are truly licensed in either online formats or over the telephone, but other forms of online support may be available in the form of peer led support groups that are conducted by chat, email or bulletin board.
There are plenty of legitimate therapists who practice online therapy, and it may be slightly less expensive for some than seeing a therapist locally. The typical options for this type of therapy mean people may use a real time chat or email. Online therapy can also involve phone calls, though telephoning is technically an offline service.
The trouble with this form of therapy can be that it might be difficult to verify the credentials of a given counselor, and though many of them are skilled, not all are good at their jobs or truly licensed as counselors. However, there are a growing number of reputable online therapists, and this field continues to expand.
Some believe that an essential part of therapy is lost when clients don't sit face to face with a therapist. Certainly, it's harder to read nuance and expression in text only, and this might be a valuable part of getting to the bottom of an issue or helping a client progress. In contrast, some fans of online therapy prefer the anonymity that comes with chatting online or emailing. They claim to have more comfort than they would if they were sitting in a room with a stranger.
Other issues may make online therapy attractive, including its availability in any location (sometimes a good local therapist is hard to find). It's also time-flexible. People who work off hours or extensive schedules may not be able to find a therapist to see them during their free time.
There are some contexts in which online therapy is not preferable to face to face counseling. People with severe mental illness are not likely helped as much as they need by a few online sessions. Therapists cannot prescribe medications, which might be required to produce wellness, and online counselors have less access to getting help for clients who are suicidal. It might be best used for those who want a little support or are trying to resolve an issue.
Another definition may exist for this term. People may look for ways they can study some types of therapy online. There are online classes in things like physical therapy, speech therapy and massage therapy. The degree to which these are helpful may depend on how reputable a program offering these classes is and the accreditation of the schools involved.


Woman doing a handstand with a computer