What is Nursing Software?
Nursing software allows nurses an easy way to access the information they require to do their jobs. Most software is available on personal digital assistants (PDAs) and pocket personal computers (PCs), allowing nurses to bring the software with them while attending to patients.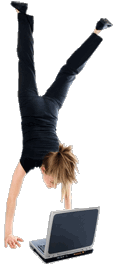 One of the most helpful types of nursing software is a drug guide. This type of software allows nurses to check medications for drug information, side effects, and any possible interactions with other medications that the patient may be taking. It will also provide dosing information and specifics about how the drug works. Some drug guides have built-in calculators. Nursing calculators, also available separately, figure the dosage of drug needed for a patient based on their weight and other factors. Other features on a drug guide calculator are a pregnancy calendar, blood alcohol calculators, and around 100 other calculations that a nurse may need to have available at a moment's notice.
Nursing software can be used as a reference tool. While these programs are certainly helpful during nursing school, they can also be used on the job. The options for reference software include guides to diagnostic tests, English to Spanish translation tools, and special tools just for pediatric care. There are tools that give quick overviews of diseases and disorders, programs especially for critical care nursing, and medical dictionaries. For nurses still completing their education, there are flashcard programs available.
Database software is another great tool for nurses. This nursing software allows nurses to keep track of information for several patients all at once. This information can then be shared with another nurse's PDA or pocket PC, or uploaded to a computer, which makes it easier for nurses to exchange information.
Another great tool for nurses to have is patient tracking software. Each patient's information is entered into a computer, which can then be transferred to each nurse's PDA. The nurses then have essential information about the patient available to them when and where they need it. Patient tracking software can assist nurses in keeping track of the schedule of multiple patients, including when they are supposed to receive treatment. This software also notes a patient's body mass index, wound data, laboratory history, healing devices currently being used, and several other types of information.
Nursing software is becoming an essential tool for nurses to use, especially in busy practices. Having the information that nurses need, when they need it, will help to ensure better efficiency in patient care. Because nurses are responsible for the majority of patient care, it is essential to equip them with the tools they need to do the best job possible.