What Is Milk Chocolate Frosting?
Milk chocolate frosting is a thick and creamy chocolate topping for baked goods. It takes less than 20 minutes to make and is comprised of about six ingredients. The frosting can top a variety of desserts including cupcakes, brownies and cake. It's versatile enough to be combined with other ingredients to create different flavors of frosting. Those who have special preferences or dietary restrictions can make different types, including vegan and sugar-free.
The type of chocolate called milk chocolate is sweeter than dark chocolate and comprised mainly of cocoa and milk. Although some interchange the terms, frosting is different than icing — it's creamier and thicker. When a form of milk chocolate — typically chips — is altered and combined with other ingredients, it turns into a thick, creamy and spreadable milk chocolate frosting.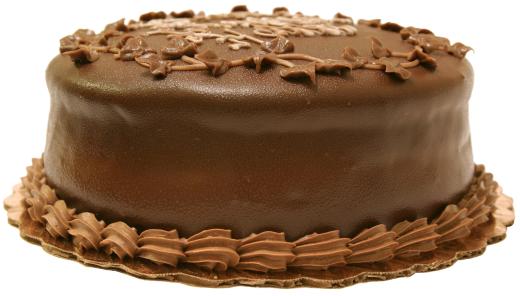 Only a few ingredients are necessary to make milk chocolate frosting. The only ingredients usually included are powdered sugar, vanilla extract, milk chocolate chips, and butter. The amount of each ingredient depends on how much frosting is needed to frost the dessert. For example, much more frosting is needed to cover a two-layer cake than a single batch of brownies.
There is a variety of baked goods that milk chocolate frosting can top. Cake and cupcakes are two of the most popular although some may put a little on cookies as well. For those who occasionally make slightly dry brownies, putting frosting on top can be a way to minimize the dry taste. Milk chocolate is such a versatile flavor that it can combine with almost any flavor of cake including vanilla, chocolate, and peanut butter. The frosting isn't reserved for the top; it can also be put in between the layers of a cake.
Those who want a change from using regular milk chocolate frosting can alter the flavor by adding only a few ingredients. To make a caramel version, add brown sugar. When making a coconut version, add coconut milk and coconut flakes, and for making a peanut butter variety, include creamy peanut butter.
Bakers cannot always use a standard milk chocolate frosting recipe due to dietary restrictions. For those who want a vegan recipe, combine vanilla, powdered sugar, soy margarine, cocoa powder and soy milk. To make a sugar-free recipe, combine a package of sugar-free milk chocolate pudding with sugar-free whipped topping, cream cheese, and milk.
AS FEATURED ON:
AS FEATURED ON:






By: Lisa F. Young

Milk chocolate frosting on a cake.

By: RoJo Images

Milk chocolate frosting can be used on any variety of cake.

By: Andrey Kuzmin

Fresh milk is usually a primary ingredient in milk chocolate frosting.

By: Igor Dutina

Soy milk can be substituted for dairy milk in most frosting recipes.