What is Medical Microdermabrasion?
Medical microdermabrasion is a cosmetic procedure that can improve the appearance of skin. By removing the stratum corneum, the top layer of skin, wrinkles, spots, and discolorations are removed or minimized, and newer, fresher skin emerges. With subsequent medical microdermabrasion sessions, more new skin can be revealed, and the process itself may encourage the skin to rejuvenate itself more quickly, creating a fresher complexion.
Microdermabrasion refers to the process of using exfoliation to remove the topmost layer of skin. Home kits for microdermabrasion provide users with a scrub that consists of tiny particles suspended in a cream or gel. This scrub is massaged into the skin to help remove the skin's upper layer. While the at-home process is not as effective as medical microdermabrasion, it is both convenient and inexpensive.
In medical microdermabrasion, a medical doctor, nurse, or trained esthetician, also known as a facialist or skin-care specialist, uses a wand-like instrument to perform the procedure. The wand is designed to propel a stream of fine particles onto the skin while simultaneously vacuuming up the particles and the dead skin that they have loosened from the skin. The wand is applied all over the client's face, and sometimes neck, hands, or chest, to remove its old, dull layer of dead skin.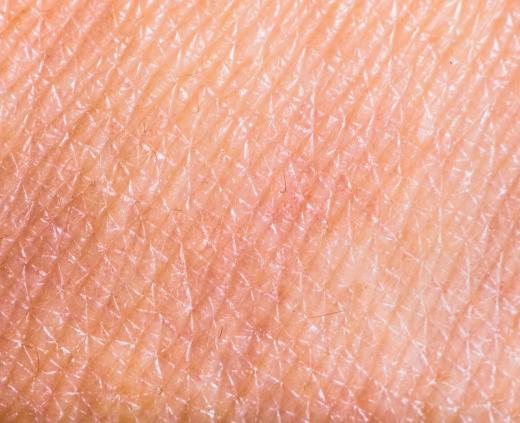 After medical microdermabrasion, the client's skin will likely be red and swollen from irritation, though this reaction should calm after a few days. Adding soothing moisturizing creams can also help the skin recover from the procedure. In fact, because the outer layer of skin is gone, the client's skin may be better able to absorb beneficial ingredients in skin-care products. Many individuals choose to undergo multiple sessions of medical microdermabrasion to both maximize its effects on wrinkles and aging skin and to maintain the effects of the initial treatments.
While the procedure is generally considered to be safe and non-invasive, individuals should be cautious when undergoing medical microdermabrasion. In the hands of an untrained person, microdermabrasion equipment may cause damage to the skin, including bruising. Anyone who performs medical microdermabrasion should screen potential clients for conditions that could be aggravated by the procedure. For example, microdermabrasion could cause a flare-up of a herpes infection, which in some cases may result in disfigurement. Individuals who use Retin-A, a potent skin treatment for both acne and wrinkles, should likewise avoid microdermabrasion or most forms of exfoliation, as the process may irritate or damage their skin.
AS FEATURED ON:
AS FEATURED ON:






By: Robert Kneschke

A medical doctor may perform a cosmetic procedure known as medical microdermabrasion.

By: Deyan Georgiev

Medical microdermabrasion is performed to clean skin pores and to remove dead skin cells.