Listeriosis is a type of bacterial infection which is classically acquired through the consumption of contaminated food. In individuals with a healthy immune system, the bacteria usually cannot multiply and spread, but in immunocompromised people, older adults, and children, the infection can become very serious or even deadly. Like other food borne illnesses, the risk of developing listeriosis can be radically reduced by observing handling precautions when dealing with food.
This infection is caused by Listeria monocytogenes. The bacteria are often present in water and soil in addition to animals, and in fact many humans have a few Listeria bacteria in their guts at any given time. Listeriosis classically develops when people handle infected animals and do not wash their hands afterwards, or when they eat contaminated food. Soft cheese is often a suspect in listeriosis outbreaks, as are poorly cooked meats.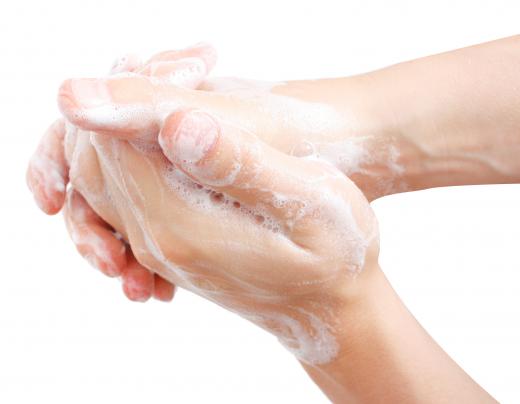 Listeriosis can take a number of forms. Some patients develop fever, headache, nausea, and diarrhea as the bacteria causes gastrointestinal illness. However, the bacteria can also enter the bloodstream and the nervous system, causing convulsions, loss of balance, confusion, and convulsions. This type of infection is far more serious, and it requires immediate treatment with antibiotics.
Infection with Listeria is especially dangerous for pregnant women. Women can miscarry as a result of listeriosis, and they can also pass the infection on to the fetus as it develops. Listeriosis can also develop as a result of cross contamination during labor and delivery. In neonates, this infection is extremely dangerous and often deadly, because their bodies and immune systems are simply not up to defeating the bacteria.
Pregnant women should be extremely careful about what they eat to avoid listeriosis and other dangerous medical conditions which can threaten the pregnancy. Most obstetricians provide their patients with a list of safe foods and foods which should be avoided, along with the reasons for the necessity of avoiding certain foods. Individuals with compromised immune systems also need to watch their diets carefully to avoid foods which could cause listeriosis and other potentially deadly infections.
Cooking food thoroughly can kill the bacteria which cause this infection, along with any other unwanted bacterial visitors. It is also important to hold foods at safe temperatures, whether they are hot or cold, and to wash hands frequently while preparing food, in addition to handling meat and seafood on isolated cutting boards which are not shared with vegetables and other ingredients.
AS FEATURED ON:
AS FEATURED ON:






By: Lasse Kristensen

Anyone handling food should wash their hands thoroughly before preparing food.

By: Subbotina Anna

Listeriosis can cause headaches.

By: LanaK

Pregnant women are more susceptible to listeriosis.