What is Lemongrass Essential Oil?
Lemongrass essential oil is the oil that is steam distilled from the tropical plant Cymbopogon citrates. This oil is said to have many therapeutic benefits and is used in Chinese and Indian medicine, Ayurvedic treatments, and aromatherapy, where it is categorized as one of the calming essential oils. As an additive to cosmetics, soaps, and shampoos, it adds a lemony scent and deodorant effect. Lemongrass oil is also added to some Asian foods and drinks.
The fresh or dried leaves of the lemongrass plant produce a light, thin oil that is pale to dark yellow. Like its name, the oil has a scent of citrus and fresh grass, and aromatherapists often combine it with types of aromatherapy oils that have a fresh or flowery scent, such as lavender, geranium, cedarwood, clary sage, and tea tree. Lemongrass essential oil is often used for easing anxiety, calming the mind, and helping to ease insomnia and depression.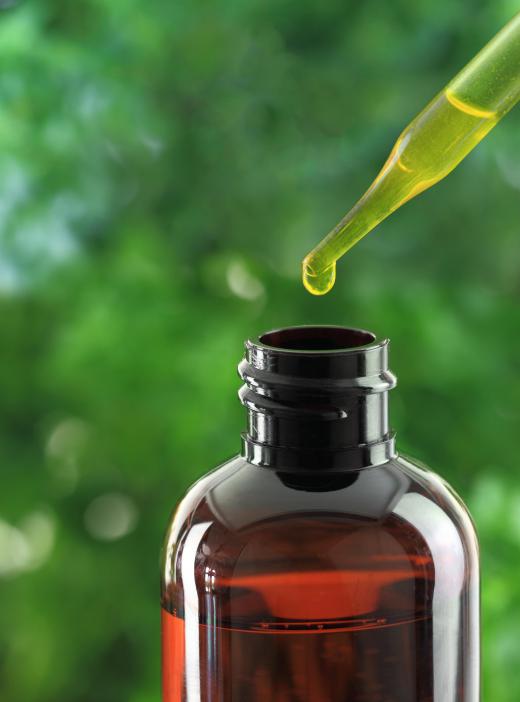 In Eastern medicine, the oil has long been used internally as a pain reliever and fever reducer. It is believed to have antiseptic, antibacterial, and antimicrobial properties, so it is prescribed for infections, high fever, food poisoning, stomach ulcers, and other intestinal problems. Three to four drops of lemongrass essential oil, added to herbal tea or juice, can be taken several times a day for specific problems, or as a general tonic. However, the oil's sedative effect may cause drowsiness, so care should be taken after drinking the tonic.
When lemongrass essential oil is applied to the skin or used in a wash or lotion, it is said to repel insects, clear infections, heal rashes and acne, and destroy skin fungus and microbes. In topical use, it is considered one of the best essential oils for stimulating alertness and increasing blood flow to the skin surface. Some individuals with sensitive skin may find the oil irritating. It is best to blend a few drops of lemongrass essential oil with neutral oils such as sesame, olive, or almond before applying to the skin. The oil can also be sprayed around the house for a general deodorant that will also destroy bacteria.
Lemongrass oil can be purchased from online or store dealers of aromatherapy supplies. It can also be found in some health food stores or directly from organic farmers or producers. A half-ounce bottle (13-15 ml) of the oil can cost between $4-6 US Dollars (USD); buying bulk wholesale essential oils will decrease the cost per ounce.
AS FEATURED ON:
AS FEATURED ON:






By: viperagp

Lemongrass essential oil may be yellow or amber in color.

By: bramgino

Lemongrass essential oil may help relieve insomnia by easing anxiety.