What is Leaded Stained Glass? (with pictures)
Stained glass is used for decoration in homes, churches, and various other buildings. Some of the most beautiful examples of glass work in windows and other objects can be seen in leaded stained glass. Leaded stained glass consists of a mosaic of colored glass held together with lead strips, or cames, soldered at the joints to form pictures and abstract designs. It is an art form dating back to medieval times that has recently enjoyed a revival.
Leaded stained glass first appeared in medieval churches, in windows that were simple representations of religious images, without much artistry. As time went on, window openings in cathedrals became bigger, and craftsmen were employed to create beautiful images thought to inspire religious awe. The art of stained glass reached a peak before the late Renaissance period around 1550, when it began to fade in favor of painted glass. In the 1700s, many beautiful and historic medieval windows were destroyed as fashions changed.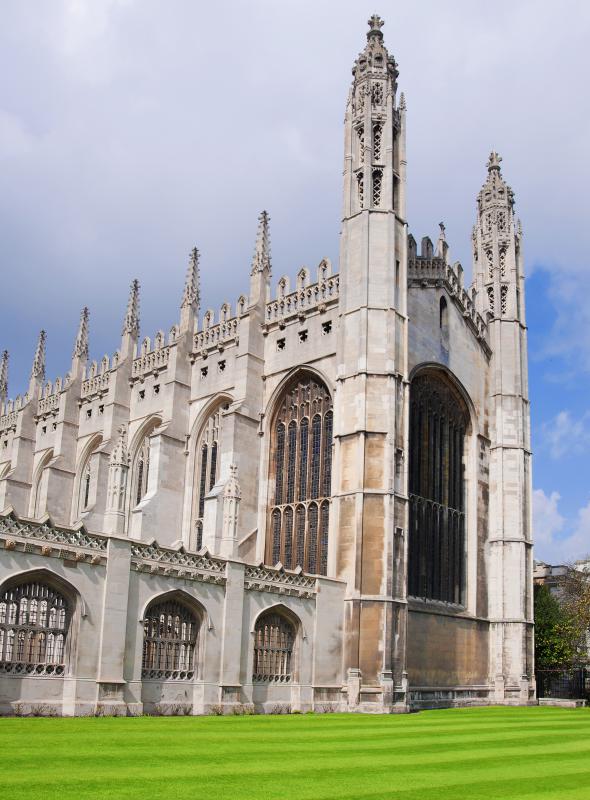 In the 1800s, a new interest in leaded stained glass was piqued as artisans began to rediscover the techniques. A famous name in stained glass was Louis Comfort Tiffany, an American designer and artist of the nineteenth century. Along with competitor and contemporary John LeFarge, Tiffany developed and popularized opalescent glass in artistic and detailed naturalistic designs. His windows and light fixtures, using a copper-foil method rather than the leaded stained glass joinery, are popular among collectors. An authentic antique Tiffany art glass or stained glass lamp may fetch thousands in US dollars, but many fine reproductions are also available.
Stained glass popularity waned again after World War II, though recently hobbyists have embraced stained glass work and once again revived an appreciation of the art form. For those artists who prefer working with leaded stained glass instead of the copper-foil method, supplies are readily available. Lead is a hazardous substance with known health risks, and careful handling is recommended.
Artists design leaded stained glass panels on paper first, then lay out the glass pieces and join them with the lead came on top of the pattern. The whole work is fastened together with lead solder, at the joints for lead came or along the seams for copper foil. Pieces are then cemented for added strength and to seal the glass pieces into the came strips. Colored glass in all shades and textures can create the effect of a painting. Innovative glass work in both antiquated and contemporary design is used in structures and decorative objects to bring beauty and light to daily life.
Stained glass.

Leaded stained glass.

King's College Chapel at the University of Cambridge includes a number of medieval stained glass windows.