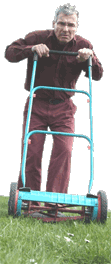 Kalimeris is a genus of flowering plants in the sunflower family. They are native to Eastern Asia and are widely cultivated across parts of Asia and Europe. They are sometimes known by the common name "double Japanese aster." Nurseries sometimes carry seeds and seedlings, and gardeners can also propagate by dividing an existing and well-established planting.
These plants have bluish-green lobed foliage and flowers that may be white, purple, or pink, depending on the cultivar. The flowers look similar to chrysanthemums or small sunflowers, and will readily reseed for gardeners interested in developing an established bed of Kalimeris in the garden. Mature plants can be around three feet (one meter) in height by the time they are finished growing.
Members of the Kalimeris genus grow in United States Department of Agriculture (USDA) zones five through nine, and prefer well-drained, average soil conditions. In cooler climates, a full sun planting is recommended to ensure the plants get enough light during the day. In warmer zones, partial shade is advised, as being in the sun all day may be too much for the plants to handle. These plants do very well in containers like flower boxes and pots, and grow quickly when they are planted in a location they like.
In cooler regions, Kalimeris may die back in the fall, producing new green foliage in the spring. It can take a year or more for the plants to become fully established and once they do, they will spread readily. People in cold zones can also grow the plant as an annual rather than a perennial, simply replanting every year to replace plants killed by the cold. Kalimeris species can be excellent for borders, massed plantings, and background plants where lots of green herbaceous foliage and simple flowers are desired.
Seeds are often available at a nursery or by mail order. People can start seedlings in the greenhouse in the spring and transplant them after the last chance of frost has passed. Seedlings can be transplanted directly. Gardeners planting from divisions should make sure to only divide healthy massed plantings to avoid shocking the plant. In all cases, good days for transplanting are cool, humid days where the plants can be moved outdoors without being shocked by excessive cold, heat, or dryness. Once planted, the plants should be watered in and given some fertilizer if the soil was not worked with compost or another fertilizing material.


Man mowing the grass