What Is Involved in Hemodialysis Training?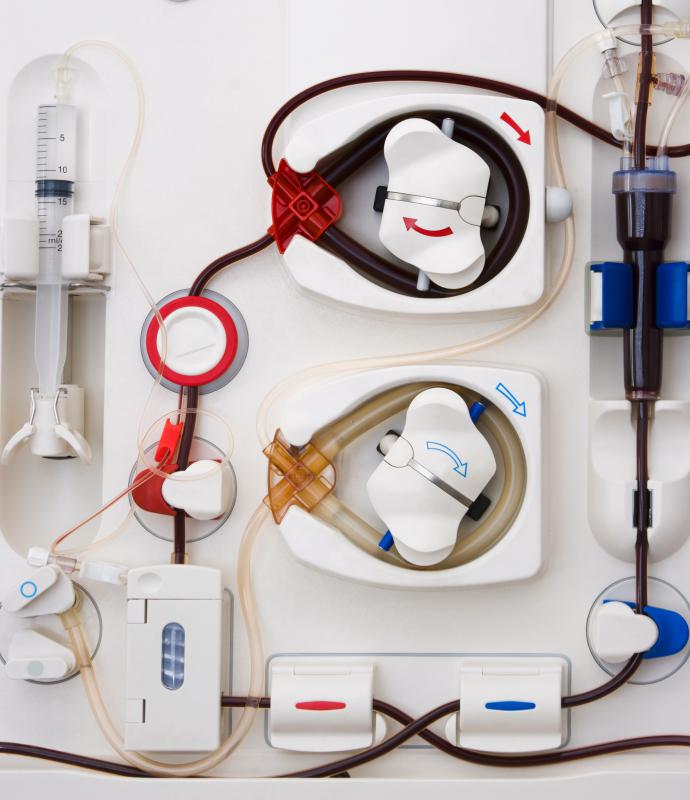 Hemodialysis, sometimes spelled haemodialysis, is the process of routing a patient's blood through an artificial kidney machine to remove impurities. This is done when a person has suffered loss of kidney function and is faced with either temporary or permanent renal failure. A person who takes hemodialysis training does not have to be a nurse, but in many cases nurses will learn the process to enhance their job skills. Hemodialysis training typically involves teaching the student hands-on skills, such as the operation of a hemodialysis machine, how to connect the patient to the machine, and how to monitor the equipment. Students also commonly learn how to work with ill patients, understand potential problems that can occur during the dialysis process, and when to seek help from a doctor or other professional.
It is possible to take hemodialysis training from many different sources. Many colleges that offer classes for health care professionals also offer hemodialysis training as part of a nursing program. For students who only want to take hemodialysis training and don't wish to become nurses, there are many schools that offer courses for interested students that have graduated from high school. These courses typically last about three months and teach students all they need to know in order to become certified as hemodialysis technicians.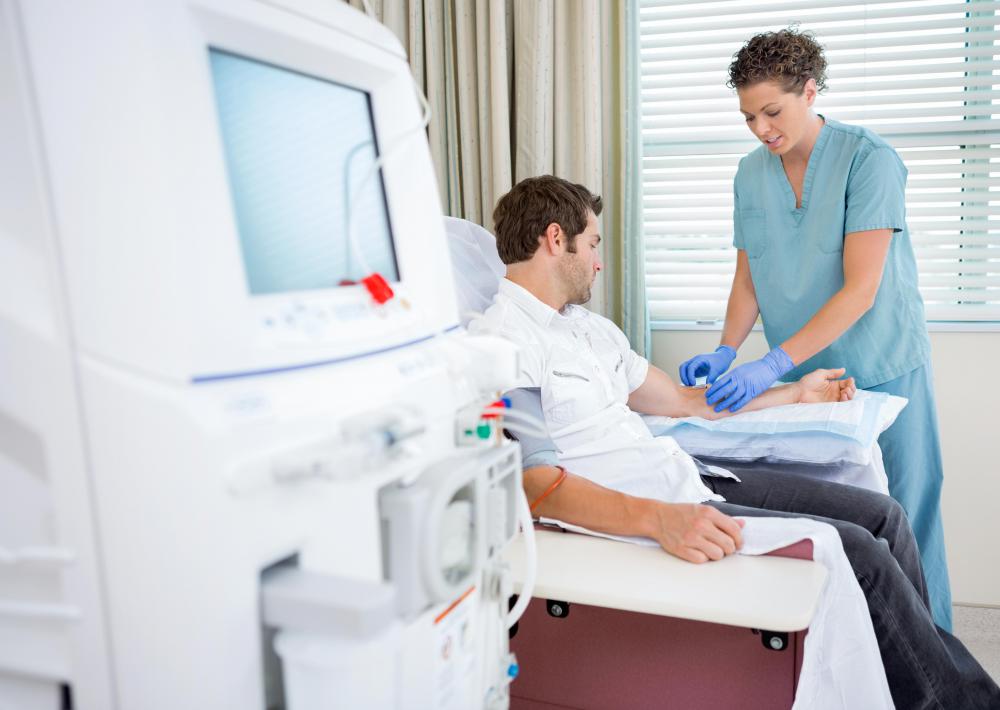 Most hemodialysis training focuses on two main areas. The first of these is classroom work, preparing students to take the Certified Hemodialysis Technologist/Technician (CHT) exam from the Board of Nephrology Examiners Nursing and Technology (BONENT). This organization certifies technicians and nurses in hemodialysis. Certification is global and is available from BONENT in many different countries. It is unlikely that a person will be able to find work as a hemodialysis nurse or technician without this type of certification.
The second area that hemodialysis training focuses on is the clinical aspect of the work. Students go beyond book learning to work directly with patients in a hemodialysis clinic or similar setting. The hands-on aspect of such work insures that students not only understand what they are doing and why, but that they are also able to actually do the job.
During the clinical phase of hemodialysis training, students typically work under the close supervision of an experienced technician or nurse, performing routine tasks. Students are expected to access veins, connect tubing, operate dialysis machines, and carefully monitor patients undergoing treatment. Most programs will not allow students to pass until they have proven that they can handle both the classroom and the clinical aspects of the job.
A hemodialysis machine.

Hemodialysis performs the function of the the kidneys in the case of renal failure.

Being treating patients during dialysis sessions, one must understand all the potential problems that can occur during the process.