What is Involved in Diabetic Foot Treatment?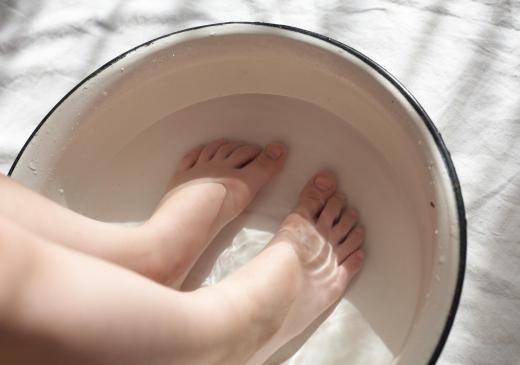 Diabetics should practice good foot hygiene, and includes soaking them daily, changing socks often, and keeping toenails neatly clipped. It can be a good idea to check for foot ulcers, cuts, or abrasions while doing these things. Diabetic foot treatment may also involve wearing socks most of the time; in fact, a podiatrist may recommend a pair of diabetic socks for his patients with this disease. Massage can sometimes help individuals with poor circulation in the foot area.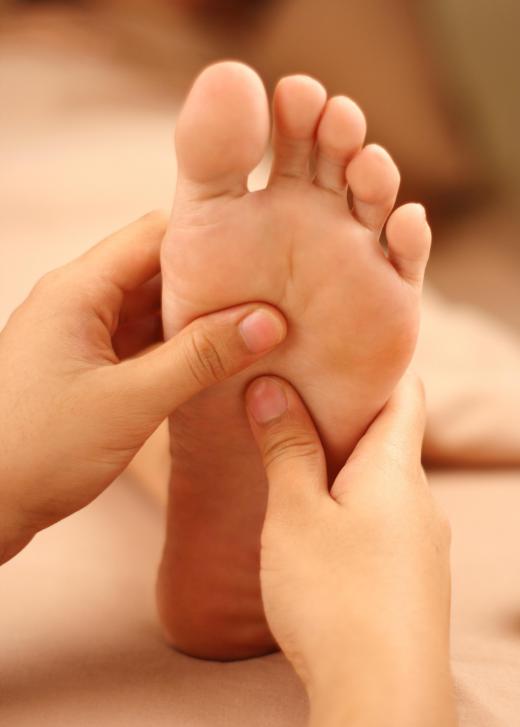 Good hygiene is an important part of any diabetic foot treatment plan. Individuals should soak their feet in lukewarm water daily if possible. If this is not possible, patients can wash with warm water and antibacterial soap. Doing so can help keep fungus from forming, thereby causing an infection.
In addition to washing the feet, diabetics may want to keep them well lubricated. They should put foot lotion on the tops and soles of their feet in order to keep socks from rubbing against them and causing an abrasion. Even so, lotion should not be put between the toes, as this can create a moist environment for fungus to breed in.
While performing daily hygiene, patients should check their feet for any problems. Things to look for are open sores, blisters, swelling, or nail fungus. Any cuts or scrapes should be treated with antibiotic cream so they don't become infected. If any serious conditions are found, a podiatrist should be consulted so he can recommend the right diabetic foot treatment to remedy the situation.
People with diabetes should always keep their feet covered. This helps keep the feet warm so blood will circulate better. In some cases, a podiatrist may recommend diabetic socks for their patients. These socks help support the calves and soles of the feet while reducing swelling.
Many people like to massage their feet on a regular basis. This type of diabetic foot treatment can help keep blood flowing to the toes and soles. Since diabetics often have limited sensation in their feet, doing so can help increase the amount of feeling they experience as well.
A diabetic foot treatment plan is an important part of managing diabetes for many patients. This is because people with this disease are prone to foot problems that, when left untreated, may lead to an amputation. Individuals who follow a strict foot-care regimen often suffer less, and may also decrease their chances of undergoing such an ordeal.


By: Mykola Velychko

Diabetics should soak feet daily.

By: photosoup

Foot massages may help individuals with poor feet circulation.

By: Nobilior

Diabetics should use foot lotion daily.

By: kolotype

Diabetic foot infection can necessitate amputation of the feet or legs in patients who fail to control blood sugar levels.

By: Monika Wisniewska

Peripheral neuropathy may lead to tingling, pain and numbness in the feet.