Glycopyrrolate is a medication prescribed to treat peptic ulcers. It may be effective in relieving pain caused by this condition; however, patients are unlikely to heal their ulcers or prevent them from recurring with this drug. Glycopyrrolate is an anticholinergic medicine that works by decreasing the amount of stomach acid that is produced. It also helps relax the stomach muscles. A doctor may also sometimes prescribe it to treat children between the ages of three and 16 who suffer from chronic, severe drooling that can be caused by cerebral palsy and other disorders.
Adults with peptic ulcers will typically be prescribed 3 milligrams (mg) of glycopyrrolate daily, taken in three evenly divided doses. The total daily dose should not usually exceed 8 mg. Dosages for children with severe drooling will be determined by weight on an individual basis. Each dose should be taken on an empty stomach.
Some side effects may occur with the use of glycopyrrolate, which should be reported to the prescribing physician if they become bothersome or are persistent. These can include dry mouth, vomiting, and upset stomach. Some people may experience insomnia, blurred vision, or drowsiness. Dizziness, dry eyes, and abdominal bloating may also occur. Loss of taste, nervousness, and confusion have also been reported.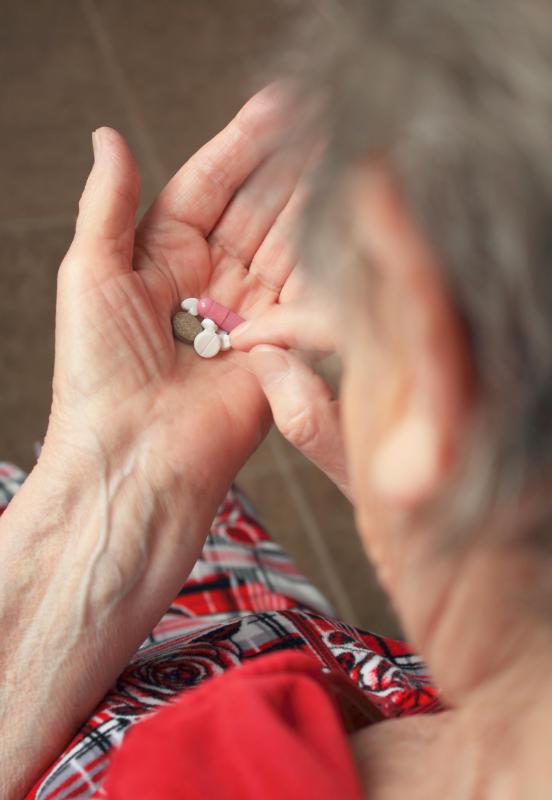 More serious side effects have been reported rarely. Patients should seek immediate medical care if they experience a rapid or irregular heartbeat, eye pain, and difficulty urinating. Hallucinations, unusual excitement, and abnormal, decreased sweating may also occur. Some patients have experienced flushed or hot skin, problems breathing or swallowing, and severe diarrhea.
Elderly patients should be aware that they may be more susceptible to side effects while using glycopyrrolate. They may especially experience problems urinating, drowsiness, and excitement. All patients should follow certain precautions while using this drug, which include consuming alcohol in moderation only. They should also drink plenty of fluids and avoid becoming overheated, because glycopyrrolate can increase the risk of heat stroke.
Before using glycopyrrolate, patients should disclose their other medical conditions to ensure patient safety. This medicine may be contraindicated for use by those who have liver or kidney problems, myasthenia gravis, and glaucoma. Patients with an enlarged prostate, ulcerative colitis, or any heart problems should not use it. As of 2011, it is unknown if this drug can pass into breast milk. Women who are pregnant should avoid this medicine or use it only if there is a greater risk to the mother.
Patients should also disclose their other medications and supplements before beginning treatment with glycopyrrolate. It may interact with potassium supplements, antifungals, and levodopa. Digoxin, tricyclic antidepressants, and some drugs for Parkinson's disease should also not be used along with this medicine.
Dry eyes may be a side effect of glycopyrrolate.

People taking glycopyrrolate should avoid becoming overheated.

Glycopyrrolate is commonly prescribed to treat peptic ulcers.

Adults with peptic ulcers are typically prescribed 3 mg of glycophyrrolate a day.